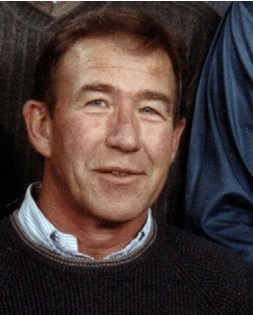 Edward Duane Calvert
Oct 19, 1947 - Aug 28, 2007
Funeral services for Edward Duane Calvert will be held at 11 am, on Friday August, 31 at the Methodist Church in Riverton. Mr. Calvert died at the Wyoming Medical Center in Casper, Wyoming on August 28 after a brief, but very courageous battle with cancer. He was 59 years old.

Edward Duane Calvert was born on October 19, 1947 to Charles Duane Calvert and Helen Joanne (Luers) Calvert in Lander, Wyoming. In 1957, his father "Chuck" became a game warden for the Wyoming Game & Fish, and the family moved from Riverton to Shoshoni, where in the fifth grade, he met the love of his life and future wife, Rubydee Bebout. He excelled in sports at Shoshoni High School where he was also elected Student Body President, and named Salutatorian of his graduating class in 1966. In the spring of 1969 he married his childhood sweetheart Ruby in Riverton. Ed graduated from the University of Wyoming in 1971 with a Bachelor of Science degree in Electrical Engineering.

Upon graduation, Ed was hired by Pacific Power & Light as a substation design engineer, and he moved to Portland, Ore. with his wife and young son Chad. PP&L transferred Ed to the Casper division of the company in 1974, and the family resided in Casper until 1978. He then moved to Riverton where he spent the rest of his life. His love of the outdoors guided his career choices. He worked as an independent land man, in the mining business with Nupec Resources, and finally in the oil and gas industry where he worked as Vice President/Partner of Nucor Oil and Gas until his death.

He enjoyed golfing, traveling, fishing, skiing, and spending time with family and friends. His most beloved hobby however, was being a devoted father to his children and their pursuits. Aside from sharing his love for wildlife and the outdoors, he also became a coach of many activities for his three children. He coached baseball, soccer, Odyssey of the Mind projects, and was always involved when it was time to build projects for school, or work on his kids' many vehicles. He was extensively involved in the Riverton Youth Soccer League, organizing the first state tournament for soccer in Riverton, and was a spokesman for sanctioning soccer as a high school sport in the state of Wyoming. He was committed to his wife, family and friends, and never too busy to lend a hand to someone in need.

Survivors include his wife Ruby of Riverton, daughter Kara, and sons Chad and Chris; brother Gene Calvert and wife Teresa of Naples, Florida; and sister Betty and husband Mike Besson of Cheyenne. He is also survived by numerous aunts, uncles, nieces, and nephews.

He was preceded in death by his father Charles Calvert, mother Helen and her husband Tom Weisz.

In lieu of flowers, memorials can be made can be made to the Calvert Family Scholarship Fund, in care of Wells Fargo Bank of Riverton, Wyoming or Wyoming Public Television Foundation Production Funding in care of Davis Funeral Home.