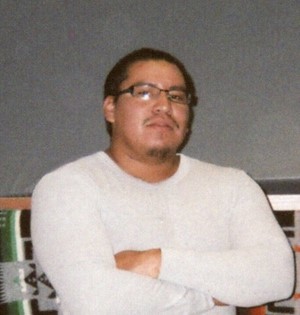 Mitchell C'Hair, Jr.
May 14, 1984 - Jan 2, 2012
Funeral services for Mitchell J. C'Hair of Ethete are at 10 a.m. on Saturday, Jan. 7, at Blue Sky Hall at Ethete. Traditional services will be officiated by Crawford White with Catholic clergy presiding at the Catholic service.

Interment follows at the Arapaho Catholic Cemetery at St. Stephen's . A rosary will be at 7 p.m. on Thursday, Jan. 5, at the Davis Funeral Home of Riverton with a second rosary at 7 p.m. on Friday, Jan. 6, at Blue Sky Hall at Ethete with a wake following at 291 Plunkett Road on the Wind River Reservation.

Mr. C'Hair died as the result of a motor vehicle accident on the Wind River Reservation on Monday, Jan. 2, 2012. He was 27.

Mitchell James C'Hair, Jr., was born in Laramie on May 14, 1984, the son of Mitchell James C'Hair, Sr., and Victoria "Vicki" (Crispin) C'Hair.

He was a member of the Northern Arapaho tribe and worked as a laborer on reservation grant projects by aiding the elderly with firewood. He worked for Ellis and McNeal, laying concrete. He was also a Sho-Rap firefighter and worked for Wind River Transportation.

On Sept. 16, 2009, he married Rose Bell in Riverton.

Mr. C'Hair was of the Catholic faith and belonged to the Native American Church. He participated in Northern Arapaho sundances. His family said he enjoyed playing basketball, going to the casino, working out, playing cards, working at the computer, and singing Arapaho songs with his children.

Survivors include his wife, Rose M. Bell C'Hair of Ethete; sons, Braeden Jace and Mitchell James III; daughters, Dezreen Jarae and Anelia Charmaine; god daughter, April Crispin; his parents, Mitchell, Sr., and Vicki C'Hair of Ethete; grandparents, Ida and Charles Brown of Lander sundance grandfather, Vernon Harris; brothers, Thomas Crispin, Sr., Christopher C'Hair, Sr., Jonathan C'Hair, Bub Shoyo, Shaw Whiteman, Austin Kitchin, Kobee Kitchin, Billy Smith, Mitchell Pat Moss, and Medrick Moss, Jr., Cory Sunrhodes, Brian Sunrhodes, Rocky Shoyo, and Guy Sunrhodes; sisters, Makayla C'Hair, Tianna Trumbull, Tyla Trumbull, Johnna Moss, LaRae Shakespeare, Aleeah Crispin, Michelle Crispin, Shawna Crispin, Jolene Hubbard, Marilyn C'Hair, Sophie C'Hair, Amelia C'Hair, Bria Smith, Lexi Condo, Brandi Revere, and Kandy Shoyo;aunts , Aline Kitchin, Vonda Crispin, Vera C'Hair, Rochelle C'Hair, Sadie and Duane Bell, Emma and Nelson Moss, Pam and Sherman Hereford, Mary Ann Duran, Matilda C'Hair, Rose Marie C'Hair, Julie Mae (C'Hair) Whiteman, Sharon Bell,; great grandmother, Effie Urevich; great grandfathers, Claude Hardman and Coleman Hardman; uncles, Gary C'Hair, Jude C'Hair, John C'Hair, Jr., Medrick Moss, John Crispin, Jr., Raymond C'Hair, Daniel C'Hair, Wayne C'Hair, Raymond Lawrence C'Hair, Kenneth C'Hair, David C'Hair, William C'Hair, Mr. and Mrs. William C'Hair, Delmer Duran, Sr., Claude Duran, Sr., Isaac Chavez, and Dave Kitchin; numerous other relatives of the families Moss, C'Hair, Crispin, Duran, Bell, Wanstall, Teller, Teton, and Pogue.

He was preceded in death by brothers, John Crispin III, and Neil B. C'Hair; sisters, Karen Trumbull,Trina Dull Knife, and Cindy Bell; grandparents, John and Amelia Nina C'Hair, John Crispin, Sr., Henry and Susie Crispin, and Joseph C'Hair; aunts, Gloria Crispin, Alberta Duran, Rose Moss, and Mary F. Duran.

On-line condolences may be made at: theDavisFuneralHome.com

Arrangements are under the direction of the Davis Funeral Home of Riverton.