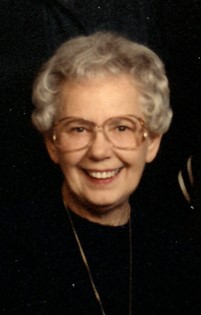 Mary Kathryn "Kate" Slovak
Nov 21, 1929 - Jan 6, 2012
Mary Kathryn "Kate" Slovak, 82, of Riverton, Wyoming, passed away Friday, January 6, 2012. Kate was born in Billings, Montana, on Thursday, November 21, 1929, the youngest child of Lloyd and Elsie Myers. She attended schools in Billings and graduated from Billings Senior High School in 1947.

For many years, Kate worked in the family Big Boy Drive-Ins and the Kentucky Fried Chicken franchise. After the sale of the drive-ins, she attended Billings Business College to study accounting. Upon completion, she worked for Ehli and Hughes until her retirement.

On February 17, 1953. Kate married John Slovak. He preceded her in death in 2000. Two years later, Kate moved to Riverton to be close to family. Survivors include her son, David, his wife, Jackie and granddaughter Emily of Great Falls; daughter, Mary Jo Chouinard, her husband, Lorenzo, and granddaughter, Amy of Riverton; and step-daughter Cheryl Ehrmantraut and step-granddaughter, Brandi Hazen of Billings. Kate was preceded in death by her parents and brothers, Sandy and Chuck Myers.

Kate was an avid reader, knitter, walker and card player, especially bridge and pinochle. For forty years, she enjoyed summers at the family cabin on the West Fork at the Stillwater. Serving on the planning committee for reunions of the Class of '47 and the annual bridge sojourn at the cabin were always anticipated events for her.

Services will be held on Friday, January 13, 2012 at 12:00pm at the St. Patrick's Catholic Church in Billings, Montana. Should friends desire; memorials may be made to Ronald McDonald House or a charity of the donor's choice.