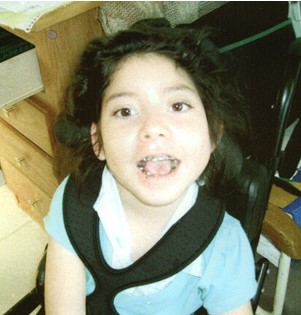 Isabella Rose Woody
Apr 17, 2002 - Jan 7, 2012
Isabella Rose Woody died at her home in Lander on Saturday, Jan. 7, 2012. She was nine years old.

Cremation has taken place and memorial services will be held at 11:00 a.m. on Saturday, Jan. 14, 2011, at the Mountain View Baptist Church in Lander, 2190 E. Main Street.

Isabella Rose Woody was born in Corpus Christy, Texas, on Wednesday, April 17, 2002, the daughter of Craig and Bonnie Lynn (Bell) Woody.

The family described her as "always smiling and happy" and said she loved to be held. They said she liked to rock and swing, and being with other children, especially her nieces and nephews.

She was of the Baptist faith.

Survivors include her parents, Craig and Bonnie Woody of Lander; brothers, Craig and Patrick; sisters, Michelle Withouse, Amber Woody, and Katherine Woody; grandparents, Sandra Elliott, Jim and Gayle Bell; great grandmother, Betty Lance, all of Lander; 13 nieces and nephews.

She was preceded in death by an infant sister, Amber Lockard; her step-mother, Anita Woody; grandfather, Ray Elliott; grandmother, Dixie Johnson.

Memorials may be made to the Headstart program, in care of the Davis Funeral Home, 2203 West Main Street, Riverton, WY 82501.

On-line condolences may be made at: theDavisFuneralHome.com

Arrangements are under the direction of the Davis Funeral Home of Riverton.