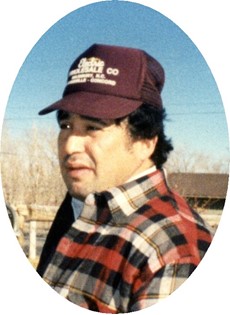 Johnnie E. Allanis
May 3, 1959 - Jan 12, 2012
Johnnie E. Allanis, 52, of Riverton and Shoshoni died Thursday, January 12, 2012 at his sister's home in Shoshone from health complications.

Funeral services will be 11:00 a.m., Monday, January 23, 2012 at the Davis Funeral Home. Burial will follow at Lakeview Cemetery in Shoshoni. A rosary will be said 7:00 p.m., Sunday, January 22, 2012 at the funeral home.

Johnnie Edward Allanie was born on Sunday, May 3, 1959 in Riverton to Clara Trujillo and Poscilio Allanis. He was baptized into the Catholic faith.

He graduated from Shoshoni High School and has lived in Riverton and Shoshoni for the past 52 years.

He married Letha Thrailkill on September 8, 2000 at Buckhorn Flats.

His family said he enjoyed fishing, hunting, boating, playing cards, watching movies, and cowboying.

Johnnie had worked in the oilfield and in agriculture as a cowboy and sheepherder. He also worked for Smiths Grocery Store in Riverton.

He is survived by his wife Letha; his mother, Clara and husband Greg Olson; brother, Brian Chavez; sisters, Rita Leidy, Stacie Chavez, and Rosalie Chavez.

He was preceded in death by his father Poscilio Allanis; four brothers, Andy Maxwell, Rick Maxwell, Fulcencio Chavez, and Benny Pete Maxwell; uncle, Lee Trujillo.

On-line condolences for the family may be made at: theDavisFuneralHome.com.

Services are under the direction of the Davis Funeral Home of Riverton.