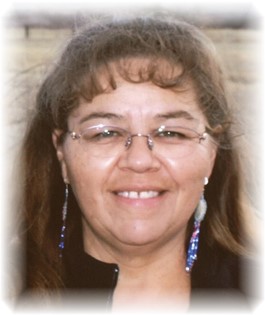 Rebecca A. Warren
Apr 13, 1964 - Feb 8, 2012
Rebecca A. Warren of Riverton died on Wednesday, Feb. 8, 2012, at the age of 47.

Funeral services are at 10 a.m. on Monday, Feb. 13, at St. Stephen's Catholic Church with burial to follow at the Sacajawea Cemetery at Fort Washakie. Feast will follow at Rocky Mountain Hall in Fort Washakie.

There will be a rosary at St. Stephen's at 7 p.m. on Sunday, Feb. 12, with a wake following at her home, 1421 Cowboy Lane, on Sunday night.

Rebecca Ann Warren was born in Riverton on March 13, 1964, the daughter of Benjamin Warren, Jr., and Vivian (Lahoe) Warren. Her Indian name was Red Earth Woman.

She was graduated from Riverton High School with the Class of 1982 and earned her Associate of Science degree in social services from Central Wyoming College where she was a member of Phi Theta Kappa.

She married Lindberg Shongutsie, Jr. in 1987. They later divorced.

Ms. Warren was a benefit specialist for the State of Wyoming through the Department of Family Services. She had also worked at the Wind River Casino gift shop and as a waitress at the Airport Café.

She was baptized in the Catholic faith, attended church at St. Stephen's Mission, and participated in Native American traditional beliefs.

Her family said Ms. Warren enjoyed being around her family, camping, fishing, going on trips, participating in the Sundance, and spending time with her granddaughter, Kiauna.

Survivors include daughters, Bobbi Shongutsie and her companion Raheem Prak, and Emily Shongutsie; a granddaughter, Kiauna Shongutsie; brothers, Ben Warren II and wife Marita, Earl Kurth Warren, Sr., and wife Linda, Matthew Warren, Jerry Warren and wife Anna, Russel Warren, Sr., Collie Warren and wife Ceila; sisters, June Warren, Judy Roman, Janet Warren, Bendetta Green, Velva Warren, and Deanna Williams and husband Thomas; God children, Autumn Behan, Russel Shaun Warren Jr., Jesse Warren, and Edena Dewey and husband Jeremey; adopted brothers, Jesse Moss and his wife Renae, Skeeter Moss, Shawn Moss, Preston Moss and wife Jessica, Joe Moss and Travis Moss; adopted sister, Britney Moss.

She was preceded in death by her sister, Bobbie Gambler; her parents, Ben Warren Jr. and Vivian Lahoe Warren; grandparents, Ben and Pauline Warren, Joe Lahoe, and Gladys Hickey; infant twin siblings, Erica and Eric Warren; nephew, Michael Blackburn; Lloyd Brown; adopted father, Norman Moss; and numerous aunts, uncles, and cousins.

Pall bearers at the funeral will be Benjamin Warren IV, Kurth Warren Jr., Christopher Warren, P.J. Warren, Mark Warren, Jory Hodge, Ben "Fats" Brown, Preston Warren and Virgil Behan, Jr; honorary pall bearers, Benjamin Warren III, Earl Kurth Warren Sr., Mathew Warren, Jerry Warren, Russel Warren Sr., Russel Warren Jr., Kody Sparks, Darrell Gambler, Wayne Arthur Jr., Collie Warren, Shawn Moss, Jesse Moss, Preston Moss, Joe Moss, Skeeter Moss, Travis Moss, and Jess Warren.

On-line condolences may be made at: theDavisFuneralHome.com

Services are under the direction of the Davis Funeral Home of Riverton.