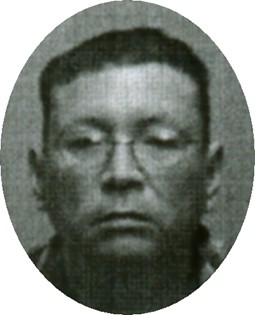 Lyle T. "Buckus" Black, Jr.
Aug 1, 1973 - Feb 10, 2012
Lyle T. "Buckus" Black, Jr., of Arapahoe died at his home on Friday, Feb. 10, 2012. He was 38.

Funeral services are at 2 p.m. on Thursday, Feb. 16, at St. Stephen's Catholic Church with the Rev. Father John Gaffney officiating. Interment is in the Arapaho Catholic Cemetery at St. Stephen's.

There will be a rosary at 7 p.m. on Wednesday, Feb. 15, at Great Plains Hall, followed by a wake at the family home,192 Left hand Ditch Road, Arapahoe.

Lyle T. Black, Jr., was born in Lander on Wedn., Aug. 1, 1973, the son of Lyle Thomas Black, Sr., and Sarah (Spoonhunter) Black. He attended Arapahoe Elementary School and Riverton High School.

Mr. Black had made his home at Arapahoe and in South Dakota.

He was of the Catholic faith and followed the Native American ceremonial ways.

His family said Mr. Black enjoyed going to the casino, listening to music, driving around, and spending time with his family.

Mr. Black worked as a custodian at the Great Plains Hall and With Eagles Wings for the Northern Arapaho Tribe.

Survivors include his step-son, Kane Samuel BigLake; daughters, Janessa Denae Black, and Talyssa Raizell Black; step-daughter, Naoma BigLake; his parents, Lyle and Sarah Black; brothers, David Black and Michelle Littleshield, Christopher Black and Rikki Oldman, Gary Moss, Sr., and Loren S. Shakespeare; sisters, Karen and Simon Arthur, Josephine Spoonhunter and Michael Lewis, Angela Black and Dominic Fighting Bear, Kristina and Aaron WallowingBull, Karena Black and Alan Richardson, and Eileen Black.

He was preceded in death by his grandparents, Katie and Henry Black, Margaret Gambler and Ward Spoonhunter; brothers, Dale "Jerry" and Dean Moss, Alfred "Griz" Shakespeare, Sr., Jay, Mike, Stanley, Darwin, Alvin, and Little Howard Spoonhunter, Aloyisous and Irvin Black; sisters, Olivia Black, Luci Addison, Nancy Spoonhunter, Wardina Spoonhunter, Cindi Bell, and Trina Dullknife; ceremonial grandfather, Norman Moss; nephew, Bradley Moss; uncles, Adam Howard Spoonhunter, Stanley J. Spoonhunter, Sr., Earl and Richie Black, Charles Gambler; Aunts, LaVerne Brown and Myrtle Oldman; and Babygirl Black.

On-line condolences may be made at: theDavisFuneralHome.com

Services are under the direction of the Davis Funeral Home of Riverton.