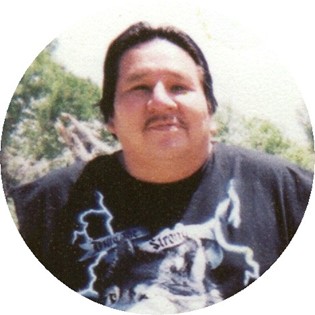 Lee O. "Oz" Eagle
Aug 14, 1956 - Feb 14, 2012
Lee O. "Oz" Eagle of rural Riverton died on Tuesday, Feb. 14, 2012, at the Wyoming Medical Center in Casper at the age of 55.

Funeral services are at 10 a.m. on Monday, Feb. 20, at Great Plains Hall at Arapahoe with traditional Native American services conducted.

Interment follows at the Oldman Cemetery at 122 Gas Hills Road.

A rosary will be said at 7 p.m. on Sunday, Feb. 19, at Great Plains Hall with a wake following at the family home, 122 Gas Hills Road.

Lee Osborne Eagle was born in Denver, Colo., on Tuesday, Aug. 14, 1956, the son of Herbert and Esther (Hardman) Eagle. He was a descendant of Horse Chief Eagle, the last Southern Ponca Tribal Chief, and was raised by William and Eva C'Hair.

He married Catherine Oldman on Dec. 4, 1985, in Fort Washakie.

He lived most of his life on C'Hair Lane out of Arapahoe, moving to the Gas Hills Road in 1990.

Mr. Eagle was of the Baptist faith.

His family said he enjoyed watching movies, hunting, playing bingo, going to the casino, playing hand games, and playing baseball, having played for the Bonsell Raiders softball team.

Mr. Eagle was a laborer and firefighter.

Survivors include his wife, Catherine; sons, Norman Oldman, his children, Phillip Oldman, his wife Cheryl, and children, Jordon Oldman, and Lee Eagle; daughters, Leandra Eagle and her son Roshard, Kindra Sitting Eagle, Brooke Eagle, Esther Smiley and her husband Eric and son Elijah, Adrienne Brown and the Ryan grandchildren, Bernadette Oldman and CJ Potter and children, and Jessica Brown and her daughter Amonyee; numerous grandchildren and great grandchildren; his adopted parents, John and Amelia C'Hair; brothers, Manual Eagle, Simon Eagle, and Lance Eagle, all of Ponca City, Okla., C'Hair brothers, Gary, John Jr., Mitchell and his wife Vicki, Jude, William James and wife Pauline, Wayne, Tyrone, William Samuel, Raymond Lawrence, Daniel and wife Karen, Kenney and Marcella Behan, Ambrose and Audrey, Raymond Charles, and David; sisters, Elaine Perimeaux, Melinda Eagle, Sadie Bell and husband Duane, Emma Moss and Nelson, Vera C'Hair, Rochelle C'Hair, Mary Ann Duran, Louise C'Hair, Matilda C'Hair, Julia Mae Whiteman, and Rose C'Hair; members of the C'Hair family; an aunt, Effie Urevre and husband Leonard; uncles, Claude Hardman and Coleman Hardman.

He was preceded in death by his parents; a brother, Elliott Eagle, and sister, Anna Eagle.

On-line condolences may be made at: theDavisFuneralHome.com

Arrangements are under the direction of the Davis Funeral Home of Riverton.