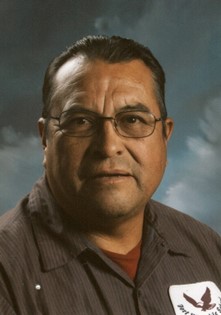 Lloyd Anthony Jenkins
Jul 9, 1951 - Feb 29, 2012

Lloyd A. "Sonny" Jenkins, 60, died on Wednesday, Feb. 29, 2012. Funeral Mass is at 10 a.m. Tuesday, March 6, at St. Stephen's Catholic Church. Burial follows at the Arapaho Catholic Cemetery at St. Stephen's. Mr. Jenkins' body will lie in state at a wake at Great Plains Hall from 5 p.m. Monday, March 5, until the funeral time. Rosary is at 7 p.m. on Monday at Great Plains Hall.

Lloyd Anthony Jenkins was born in Fort Washakie on July 9, 1951, the son of Lloyd Claude Jenkins and Marjorie May (O'Neal) Jenkins. He attended school at St. Stephen's and was graduated from Riverton High School. He attended college in Boulder, Colo., and Central Wyoming College.

Mr. Jenkins served with the U.S. Army, receiving the National Defense Service medal, M16 Sharpshooter award and hand grenade award. His family said Mr. Jenkins enjoyed basketball games, auctions, spending time with his grandchildren, and pow-wows. He participated in sweats and the sundances. Mr. Jenkins worked as a bus driver for 17 years at Wyoming Indian School, Fort Washakie, and Arapahoe.

On Sept. 10, 1976, he married Debra Brown in Casper. He was of the Catholic faith.

Mr. Jenkins is survived by his wife, Debra; children, Ione Jenkins, Madeline Bitsie, and Norman, Julian, Standing Elk, and Ira Jenkins and companion Raven Oldman; grandchildren, Amanda Jenkins, Brett Groesbeck, Shailynne Bitsie, Josette Oldman, William Groesbeck, Norman Bitsie, Jr., Jadyss Bitsie, Charles Oldman, and Bear Lee; sisters, Caroline, Marie, Judy Warren, Belinda Warren, Kathleen Warren, and Pauline Polen; brothers, Thurlo, Clarence and Bimbo; an uncle, Junior Pat O'Neal; aunts, Katherine, and Caroline Tiger; niece, Jillian C'Bearing.

He was preceded in death by his parents, Lloyd Jenkins and Marjorie O'Neal Jenkins; sisters, JoAnne and Josie; brother, Jubal; daughter, Winter Rose; uncles, Donald O'Neal and Emil O'Neal; aunts, Bernice Jenkins, Josephine Shakespeare, and Patricia Hebah.