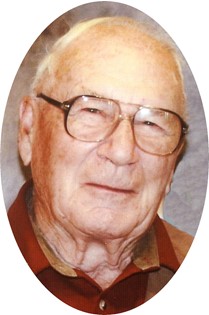 Charlie G. Miller
Mar 31, 1916 - Mar 26, 2012
Life-long Fremont County resident Charlie Miller, 95, died at the Help for Health Hospice Home in Riverton on Monday, March 26, 2012.

Funeral services are at 2 p.m. on Monday, April 2, at the Trinity Lutheran Church in Riverton with the Rev. Fred Schroeder officiating. Burial follows at Mountain View Cemetery in Riverton.

Viewing is from 5-7 p.m. Sunday, April 1, at the Davis Funeral Home of Riverton.

Charlie George Miller was born in Catawba County, N.C., on Friday, March 31, 1916, to Cloyd Lester Miller and Sarah (Smith) Miller, and was the eldest of five children. When he was three months old, the family moved to Wyoming, traveling by train to Lander and then by horse-drawn wagon to the ranch property previously purchased by the elder Mr. Miller along the Wind River above Burris.

He attended first through eighth grades in the one-room Connell School, across the Wind River from their home, riding a horse bareback to cross the river and later walking across on a swinging bridge. While in high school, he boarded in Riverton and he was graduated from Riverton High School in 1935. He was graduated from Colorado State University in 1940 with a Bachelor's degree in forestry.

While attending CSU in Fort Collins, Colo., he met his future wife, Helen Kerbel, and they were married on June 19, 1942.

The couple lived in Lander where Mr. Miller worked for the U.S. Forest Service in the Wind River mountains, and then in Pinedale where he was the Wyoming Extension Service county agent for Fremont and Sublette counties. In 1945, they settled in Riverton and established their beekeeping business.

Mr. Miller served on the Riverton City Council for 12 years during the 1950s and 1960s, working to improve the city's infrastructure with paved streets, water and sewer lines, and expansion of the airport facilities.

He joined Sioux Honey Association in 1947 and served on the board of director for 33 years.

Mr. Miller was a member of the board of directors of the Wyoming district of the Lutheran Church for 27 years.

His family said Mr. Miller's greatest joys were spending time with family and friends, traveling the world with his wife Helen, making homemade wine, and enjoying the grandeur of the outdoors.

Mr. Miller is survived by his daughter, Lynette of Lander; numerous nieces and nephews, great- and great-grand nieces and nephews, and by Marianne Gapinski, whom he considered as a second daughter.

He was preceded in death by his parents; by his wife, Helen; brothers, Fremont Miller and Larry Miller; sisters, Winona Miller and Ernestine Whisenant.

Memorials may be made to the Help for Health Hospice Home, in care of the Davis Funeral Home, 2203 West Main St., Riverton, WY 82501

On-line condolences may be made at: theDavisFuneralHome.com.

Services are under the direction of Davis Funeral Home of Riverton.