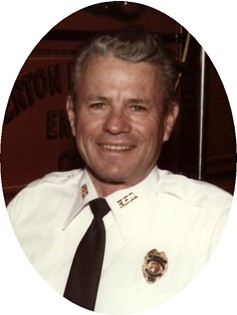 R.J. Brown
Aug 31, 1921 - Mar 26, 2012

R.J. Brown, 90, died at his home in Riverton on Monday morning, March 26, 2012.

Funeral services are at 2 p.m. on Saturday, March 31, at the Davis Funeral Home of Riverton with Pastor Echo Klaproth officiating.

Interment will be at Mountain View Cemetery with committal rites by the Riverton Volunteer Fire Department and the Friday-Truan Detachment #683 Marine Corp League, Veterans and the Wyoming Army National Guard.

Robert James Brown was born in Brodrick, Calif., on Aug. 31, 1921, the son of Daniel Salazar and Rubie (Orta).

Mr. Brown served six years with the U.S. Navy and was stationed on the U.S.S. Henley in Pearl Harbor at the time of the Japanese attack on December 7th, 1941. The Henley was sunk by a Japanese torpedo two years later. Having been reassigned to the U.S.S. Gwinn, he was in Tokyo Bay in advance of the arrival of the Battleship Missouri for the Japanese surrender, ending World War II. During the signing the Gwinn was on patrol off of the Japanese coast.

Upon discharge from military service in 1946, he came to Riverton to visit his twin brother, Richard. When he met Edith B. Anderson at the Acme Theater he decided to relocate to Riverton. The couple was married on Aug. 24, 1948, at St. James Episcopal Church in Riverton.

Mr. Brown worked for the City of Riverton Water Department for over 30 years. During that time he worked in the water department and was the manager of the Riverton Airport when he retired.

He was a volunteer fireman for 54 years and served as Riverton Fire Chief twice. The Wyoming Legislature and Gov. Dave. Freudenthal designated Feb. 16, 2007, as RJ Brown Day in honor of Mr. Brown being the third fireman in the state to serve the same fire department for over 50 years.

Survivors include his wife, Edith Brown of Riverton; son, Larry Brown of Riverton; daughters, Beverly Dalley and her husband Brad of Riverton and Reone Rupert and her husband Conrad of Rapid City, SD; five grandchildren, Matt Dalley, Nate Dalley, Tara Rupert, Jeni Greenwood, and Kari Rupert; great grandchildren, Caleb Rupert, Brianna Dalley, Lucas Greenwood, Brianna Greenwood, Ethan Rupert, Kylee Rupert, Chace Garcia, and Niko Garcia; a niece, Karen Medow, and nephew, Gary Anderson and his wife Debra.

He was preceded in death by his son, Randy; twin brother, Richard; a brother, Jimmy; sisters, Elease, Marguerite, Louise and Ruth.

Memorials may be made to the Riverton Volunteer Fire Department, in care of the Davis Funeral Home, 2203 West Main St., Riverton, WY 82501.

On-line condolences may be made at: theDavisFuneralHome.com.

Services are under the direction of Davis Funeral Home of Riverton.