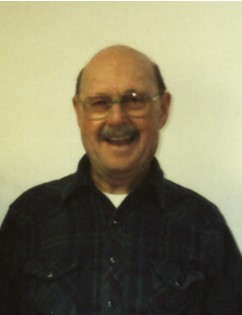 William F. "Bill" Lamming
Sep 28, 1928 - Apr 8, 2012

William F. "Bill" Lamming, 83 of Riverton, died at Riverton Memorial Hospital on Sunday morning, April 8, 2012.

Memorial services are at 10:30 a.m. on Friday, April 13, at the United Methodist Church of Riverton with the Rev. Mark Thurman officiating. Cremation has taken place.

William Frederick Lamming was born in Riverton on Friday, Sept. 28, 1928, the son of Harry Lamming, who came to Riverton from England in 1908, and Flora (Duntsch) Lamming. He lived his entire life in Riverton and was graduated from Riverton High School in 1946.

He worked for Morrison Knudsen when they were building Boysen Dam, worked for honey producer for George Krause, Sr., and was a power lineman for the Riverton Valley Electric Association (now High Plains Power) for 36 years. Mr. Lamming was drafted into the U.S. Army in 1951, took his basic training at Camp Cook in California, shipped to Japan for occupation duty, and shipped to Korea in January of 1952.

Following discharge from military service in 1952, he continued his work for the RVEA until retirement in 1988.

He married Mary K. (Winchell) Finch in 1955 and helped her raise her two sons, Gary R. Finch and Martin E. Finch and two of their own, Frederick N. Lamming and William L. Lamming.

His family said Mr. Lamming enjoyed woodworking where he was an accomplished furniture and small project craftsman, often creating and building his own designs, loved fishing and snowmobiling, and spending as much time as possible at their mountain cabin near Brooks Lake.

He was active in the United Methodist Church of Riverton. Mr. Lamming is survived by his wife, Mary; sons, Gary R. Finch and his wife Sue of Casper, Martin E. Finch and his wife Cecelia of Sherman, Texas, Fred N. Lamming of Jackson, and William L. Lamming and wife Marlene of Casper; nieces, Teresa Gillette and Sheryl McKenny; seven grandchildren, and 13 great grandchildren.

He was preceded in death by his mother, Flora; father, Harry; sister Arlene Echelberger and her husband Leslie.

Memorials may be made to a charity of the donor's choice, in care of the Davis Funeral Home, 2203 West Main St., Riverton, WY 82501.