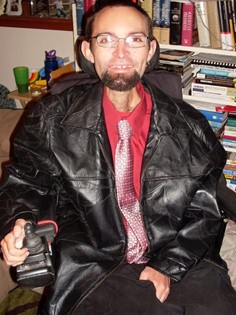 Kristopher Allen "Kris" Snyder
Nov 28, 1984 - Apr 26, 2012
Kristopher A. "Kris" Snyder, 27 of Riverton, died at his home on Thursday, April 26, 2012.

Services are at 2 p.m. on Tuesday, May 1, at the Davis Funeral Home of Riverton with interment following at Mountain View Cemetery in Riverton.

There will be a viewing from 5 to 8 p.m. on Monday, April 30, at the Davis Funeral Home with a second viewing one-hour prior to the services on Tuesday.

A gathering follows the burial on Tuesday at the Fraternal Order of Eagles in downtown Riverton.

Kristopher Allen Snyder was born on Wedn., November 28, 1984. He attended schools in Riverton, Wyoming graduating from Riverton High School in 2004.

Kris began working as an usher at the Gem Theatre in May of 2003, and continued there until his death. As a young man, he worked for the Riverton Skate Park. Kris owned and operated Kris Snyder Enterprises, a candy vending business, and in 2006 was awarded the Business Leadership Networks Symon Award as the employee of the year. He was very ambitious and tried to do everything he could to be a productive member of society, despite his disability.

Kris had a great love of music- especially heavy metal, playing his Xbox, going to concerts and attending the MDA Summer Camp in Havre, Montana where he made many lifelong friends with fellow campers, counselors and the firefighters who volunteered.

Kristopher had so many friends and never met a stranger. He loved politics and found his voice on Facebook. Kris was a true patriot, and loved America. He was very interested in history, and was very knowledgeable. Kris was interested in religion; he recently began listening to the Bible on CD and developed a great relationship with Jesus Christ. Kris was recently baptized by his home health Chaplain. Kris always had a smile for everyone and was a true inspiration to everyone who met him.

Kris is survived by his Mother, Karla Borders and Step-Father David Borders, from Riverton; his Father, Dale Snyder and Step-Mother Denise Snyder of Redding, CA; Sister Kourtney Snyder and Fiance Tanner Clark of Riverton; Brother Zachary Snyder of Redding, CA; Grandmother Jeannie Portlock of Riverton; Aunt Tina Pugh of Riverton: Cousin Jesse Pugh of Riverton: Uncles Bart Snyder of Jackson, WY; Randy Snyder of Jacksonville, FL; Monte Gibbs and his wife Robynn and son Justin of California; numerous other Cousins and extended family.

He was preceded in death by his Maternal grandfather JC Portlock, Uncles, Jesse Portlock and George Pugh, Paternal Grandparents, Peggy and Melvin Snyder.

Memorials may be made in his name to the Living the Dream Foundation in care of the Davis Funeral Home, 2203 West Main St., Riverton, WY 82501.

On-line condolences may be made at: www.thedavisfuneralhome.com

Services are under the direction of the Davis Funeral Home of Riverton.