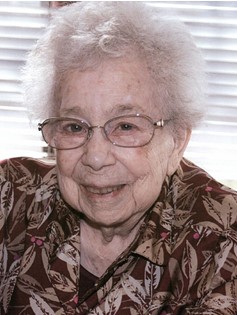 Hanaleah G. Hower
Apr 28, 1915 - May 1, 2012
Hanaleah G. Hower, 97 of Dubois, died at the Lander Regional Hospital on Tuesday, May 1, 2012.

Funeral services are at 10 a.m. on Saturday, May 5, 2012 at the Wilderness Baptist Church in Dubois with burial following at the Dubois Cemetery. There will be a viewing from 9 to 9:30 a.m. preceding the service at the church on Saturday.

Hanaleah Hower was born in Sloan, Iowa, on April 28, 1915, the daughter of Walter E. Titterington and Laura Mabel (Buck) Titterington. She grew up in Douglas and was graduated from high school there.

Mrs. Hower was a homemaker, having married Russell Everett Hower in Denver, Colo., on June 11, 1936. The couple moved to Dubois from Denver in 1946.

Mrs. Hower was a 4-H leader in Dubois and member of the Wilderness Baptist Church.

Her family said she enjoyed all kinds of crafts, loved the outdoors, wildflowers, the mountains, making candy, canning, and sewing. In addition to her duties as a homemaker, the family said she was an accomplished seamstress.

Survivors include her grandchildren, Karl Hower and his wife Rhonda and David Hower, all of Dubois; great-grandchildren, Erik Hower of Riverton, Brandi Hower of Gillette, and Natasha Rosselli of Mesa, Ariz.; a sister, Mary Musik of Battleground, Wash.; daughter-in-law, Pearl Hower of Morristown, Tenn.; ex-daughter-in-law, Karen King of Dubois; numerous nieces, nephews, and cousins.

She was preceded in death by her parents, Walter and Laura Titterington; her husband, Russell E. Hower; her son, Everett Allan Hower; siblings, Frank, Marjorie, Blanche, Dick, Nolan and an infant sister, Catherine.

Memorials may be made to the Wilderness Baptist Church in care of the Davis Funeral Home, 2203 West Main Street, Riverton, WY 82501.

On-line condolences may be made at: theDavisFuneralHome.com

Services are under the direction of the Davis Funeral Home of Riverton.