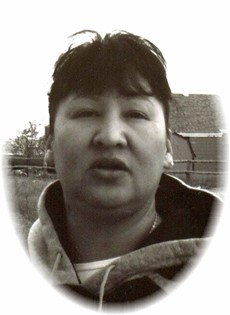 Chrystal C. Dewey
Dec 30, 1970 - May 12, 2012
Chrystal C. Dewey, 41, of St. Stephen's died in Riverton on Saturday, May 12, 2012.

Funeral services are at 10 a.m. on Thursday, May 17, at St. Stephen's Catholic Church. Interment follows at the Arapaho Catholic Cemetery at St. Stephen's.

A rosary is at 7 p.m. Wednesday at the church, followed by a wake at 1508 Elmwood Drive.

Chrystal Charity Dewey was born in Riverton on Wedn., Dec. 30, 1970, the daughter of John Charles Dewey and Valerie June Marie Oldman. She was graduated with honors from St. Stephen's Indian High School in 1987.

Ms. Dewey was a homemaker and life-long resident of the Wind River Indian Reservation. She worked as a file clerk for the department of social services at the Northern Arapaho Nation, as a cashier as the Arapahoe Store, as a foster parent for the Department of Family Services, and as a teacher for the Early Headstart program

She was of the Catholic faith and was a member of CYO in her younger years. She participated in traditional Indian ceremonies of the Northern Arapaho Tribe.

Ms. Dewey belonged to the St. Stephen's Indian High School Basketball Booster Club in 2007.

Her family said she enjoyed spending time with her family and children, beading, fishing, camping, going to garage sales, going to basketball games, and watching sporting events in which her children participated.

Survivors include her companion, Byron "Huddy" Makeshine; her mother, Valerie Friday, aka. June Oldman; step-father, Arthur Hernandez, Sr.; sons, Joeron Engavo, Caleb Engavo, Joequan Engavo, and Quayden Burnette; adopted sons, Malcolm Whiteplume, Robert C'Bearing, Jr., Evan Terrence Smith, Braxton Ridgley, Bon Ridgley, Lawrence "Larry" Oldman, Steven "Buzz" Oldman, Jr., Blaine Oldman, Phillip Whiteplume, and Buster Gambler; brothers, Steven "Stevie" Oldman, Sr., Ernest "Tater" Oldman, Sr., Curtis Oldman, Sr., Dean Dewey, Lloyd Oldman, Lakota Oldman, Jerry Antelope, Sr., Anthony Hernandez, Arthur Hernandez, Jr., Danny D. "Sparky" Ortiz, Louis Whiteplume, Robert C'Bearing, Sr., Ty Teran, Sam Teran, Patton Jeran, Dennis Teran, Lenny Monroe, Leo Monroe, Rueben Oldman, Walter Brown, Tez Brown, Bryan Brown, Dominic Littleshield, Ernest B. "Barnes" Oldman, and Talon Oldman; sisters, Tina Jenkins, Danelle Friday, April Friday, Rhonda Monroe, Lorenza Monroe, Valerie Means, Maria Smith, Elizabeth Smith, Valene Smith, Terri Smith, Jerri Smith, Cheryl Oldman, Kathaleen Daney, Mona Daney, Claudia Jenkins, Shelynn Perea, Amanda SixFeathers, Allison SixFeathers, Josephine SittingEagle, Leanne Shongutsie, Anna Whiteplume, Angie Dewey, Lawrencetta Bell, Jamie Bell, Michelle Brown; grandparents, Rueben Jenkins, Wayne Brown, Eva Mead, Flossy Brown, Sophie Oldman, Dan Brown; grandchildren, Kiarra Charity-Ann Whiteplume, Kaiden Whiteplume, Alicia Oldman, Kencin Brown, Traycen Christenson, Lane Teran; uncles, Steven Oldman, Sr., Virgil Oldman, Erwin Teran, Al Addison, Darrel Hutchinson, Jr., William "Buddy" Oldman, Darrel Smith, Sr.; aunts, LyElla Monroe, Ramona Oldman, Terri Teran, Benita Smith, Pamela SixFeathers, Francis Dewey, Elvina Buckman, Amelia Shakespeare; nieces, Sherry Oldman, Ranell Oldman, Marcel Oldman, Tianah (Littlesister) Farris, Summer Oldman, Naliaah C'Bearing, Ali C'Bearing, Anastasia Jenkins, Alyssa Bell, Sherae Bell, Stephanie Bell, Latisha Monroe, Jonae Spoonhunter, Merle Oldman, Illikea Oldman, Angie Smith, Jennessa Trujillo, Yesceniya Trujillo, Josephine Oldman; nephews, Gregory Oldman, Shawn Whiteplume, Curtis Oldman, Jr., Brinden White, Ernest Oldman, Jr., Quayden Oldman, Joseph Oldman, Mathew Oldman, Jr., Jonothan Spoonhunter, Jamison Spoonhunter, Elijah Oldman, Quentin Oldman, Darell Smith, Jr., Matthew Smith, Micheal Smith, Marcus Oldman, Louis Oldman, Curtis R. Oldman, Albert SixFeathers, Joe SixFeathers.

She was preceded in death by sons, Donovan Blackburn and Joshua Dewey; her father, John Dewey; brothers, Ernest Jenkins, Javin and Alvin Talksdifferent, Brandon Farris, Marcus T. Oldman, Donny Oldman, Royce Killsontop, Thomas Addison, Matthew Oldman, Sr.; grandparents, Marie Oldman, Flora Dewey, Roseline Addison, Lawrence Oldman, Sr., Ernest B. Oldman, and Dorothy Brown; uncle, Larry Oldman, Jr.; aunt, Nellie Daney; sister, Bambi Friday, nieces, Gina Oldman and Morningstar Jenkins; step-father, Leonard Friday.

On-line condolences may be posted at: theDavisFuneralHome.com

Services are under the direction of the Davis Funeral Home of Riverton.