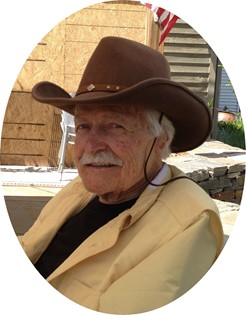 Clarence Joseph Fowkes
Sep 20, 1920 - Jun 27, 2012
Clarence Joseph Fowkes of Dubois died at his home at the age of 91, on June 27, 2012. According to his wishes, cremation has taken place. A Celebration of Life will be held, Saturday, July 21, 2012, 2:00 p.m. in the Sun Room of the Dubois Headwaters Community Center.

Clarence was born on September 20, 1920 in Almy, Wyoming to Charles and Edith (Bell) Fowkes. He was raised on the family ranch, which was homestead by his parents near Evanston. He graduated from Evanston High School in 1938, He then received his Bachelor of Science in Soils from Utah State University in 1944 and then went to Cornell University were he earned his Masters in Soils Taxonomy in 1967.

He was of the Christian faith and considered his home church Hiland Park Community Church in Casper.

Unable to join the military to fight in WWII because of medical reasons, he worked at the Wendover Air Base as the office manager.

Clarence also known as "CJ" or "Digger" worked through out Wyoming with the Soil Conservation Service from which he retired. His accomplishment included soil surveys for the Riverton Valley Homestead Act, the complete soil analysis of Teton National Park, which he mapped out. Tthe map was on display atThe Moose Visitor Center. He was also in charge of the soils taxonomy classifications for the State of Wyoming. Besides the work with soils, he was also the President of Riverton Concrete Products.

His family said the he was always involved with community as a volunteer with Meals on Wheels and coaching basketball. He was a member of the Toast Masters, Young Businessmen Association, and the Utah State Alumni.

His interest were varied, first and foremost his family said he was a "True Cowboy" and he loved all of Wyoming, landscapes, Cowboys, wildlife, and anything doing with Wyoming. He also hunted, fished, hiked, met freinds at the Rustic Pine, and enjoyed his family and friends.

He is survived by sons, Kirk (Nancy) Fowkes, Jon Fowkes, Tom (Joyce) Wystra and Andy (Krista) Wystra; daughters, Celeste (Ed) Allen, Karen (James) Bayert, Jo Deanne (Wayne) Fontenot, and Patty (Bob) Thompson; a sister Vida White. Also surviving are 17 grandchildren and 8 great-grandchildren.

He was proceeded in death by his parents; siblings, Charles, Mary, Ethel, Lillian, Arnold and Emily; his first wife, Delilah Ann Fowkes and his second wife, Nancy.; and a daughter-in-law, Jean Fowkes.



The family asks that in lieu of flowers, donations be made to the Clarence Fowkes Memorial Fundl in care of Davis Funeral Home.