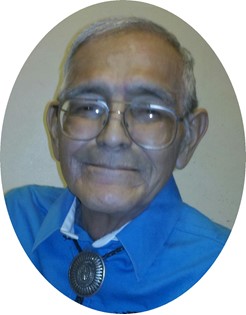 Jerome Hayes Oldman Sr.
Dec 5, 1948 - Jul 9, 2012
Jerome Hayes Oldman Sr, 63, of Arapahoe died on Monday, July 9, 2012 at the University of Utah Medical Center.

A rosary will be held Wednesday, July 11, 2012 at 7:00 pm at 460 Little Wind River Bottom Road, with the wake to follow. Services will be held on Thursday, July 12, 2012 at 10:00 am at St. Stephens Catholic Church with burial to follow at the Oldman Cemetary.

He was of the Catholic faith and a Native American Church member.

Jerome Hayes Oldman was born on December 5, 1948 in Ft. Washakie to John Baptist Oldman and Bertha Agnes (Armajo) Oldman.

He was raised on the Wind River Reservation. He attended the Job Corp in Ronan, Mt and one year off college at Central Wyoming College in Riverton.

He married Susanna Dora Moss on June 17, 1989.

He was a certified carpenter, but worked numerous jobs in a variety of fields. He was active in the Arapaho Language Revitalization.

He was the past Native American Church State Chapter President and he was one of the Northern Arapaho Tribe's medicine men. He dedicated most of his life to helping people.

His family said that he enjoyed making peyote fans and gourds, beadwork, painting, traveling and spending time with his family and friends.

He is survived by his wife, Susanna; sons, Jerome Oldman Jr,, Ronald Moss, Jesse Blackbird, Thomas Oldman, and Duane Oldman; daughters, Denise Oldman, Noreen Oldman, Elmeretta Blackbird, and Jeannett RoanHorse; adopted faather, Burton Hutchinson; brothers, Frank Armajo, John Addison, Wallace Oldman Sr, Loren Durgin, and Chris SunRhodes; sisters, Rose Oldman, Carla Geboe, Priscilla Y'Barra, Roberta Eagle, Eveline Blackburn, and Connie Brown; numerous grandchildren, great grandchildren and adopted family.

He was preceded in death by his parents; brothers, Benjamin M Oldman and Glen Oldman; and daughter, Mary Jane Blackburn.