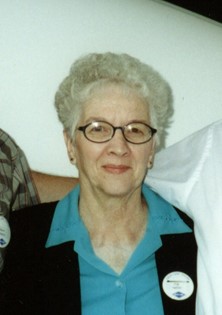 Pat A. Svilar
Apr 6, 1932 - Oct 14, 2007
Memorial services for Patsy A. "Pat" Svilar will be conducted at 11:00 a.m. on Friday, October 19, 2007 at the Davis Funeral Home in Riverton, with Pastor Scott McFarland officiating. Interment of cremated remains will follow the service at the Hudson Cemetery. A dinner will be held immediately after the burial at Hudson Town Hall.

Mrs. Svilar died Sunday, October 14, 2007 at Intermountain LDS Hospital in Salt Lake City, Utah. She was 75 years old.

Patsy Ann Svilar was born on April 6, 1932, in a sod house on a homestead near Laurel, Mont., the daughter of Charles Jess Taber and Anna (Carlson) Taber. Soon afterward, the family moved to Lander, and then to a farm close to the current Rendezvous Road. She moved to Hudson to start the fourth grade, and resided in Hudson for the rest of her life.

She attended Lander Elementary, Hudson Elementary and Fremont County Vocational High School in Lander.

On June 4, 1950 she married Victor D. Svilar in Lander. He preceded her in death.

Mrs. Svilar worked in various family businesses throughout her life, and as a substitute Hudson Post Office Clerk during the 1950's and early 1960's, retiring in 1997 after 31 years as a clerk for the Fremont County Treasurer's Property Tax Office in Lander.

She was a charter member of the current Frank Homec Veterans of Foreign Wars Auxiliary #4799, Hudson Homecrafters Club and Hudsonettes Homemaker Club.

The family said Mrs. Svilar enjoyed attending family activities, especially granddaughter Hannah's school, sporting and music events, visiting friends, gardening, traveling, and participating in Hudson community activities.

Survivors include son James R. (Jim) Svilar and his wife Zelda of Riverton; daughter Terri Svilar of Hudson; grandchildren Hannah Svilar and Brian Blumenshine of Riverton; brother-in-law John Irwin of Casper; nephews Dan Svilar and family of Washington state and Tom Svilar of Casper; nieces Debbie Smith and family of Casper, Dawn Odom and family of Tennessee and Paula Nayes and family of Sheridan; numerous cousins.

In addition to her husband, Victor D. Svilar, she was preceded in death by her parents C. Jesse and Anna Taber; brothers Carl and Stan; sister DeVee; sister-in-law Sophie Svilar Irwin; one nephew and one niece; numerous aunts and uncles.

Memorial donations may be given to the Hudson Cemetery Fund or the Hudson Yablonski Memorial Library, c/o Davis Funeral Home, 2203 W. Main, Riverton, WY 82501.

On-line obituaries are available and condolences for the family may be made at: thedavisfuneralhome.com

Services are under the direction of the Davis Funeral Home of Riverton.