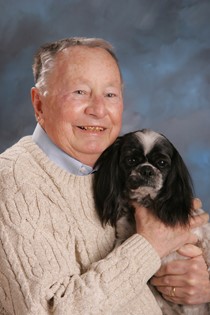 Richard "Dick" Bebout
Jul 29, 1937 - Aug 5, 2012
Richard D. Bebout, 75, of Riverton, WY died at his home on Sunday, August 5, 2012 after a 12-year battle with cancer.

A rosary will be held Friday, August 10, 2012 at 7:00 pm at St. Stephens Catholic Mission. Memorial services will be held 10:00 am, Saturday, August 11, 2012, at St. Stephens Catholic Mission with Father John Gaffney officiating. Burial of ashes will follow at Mountain View Cemetery.

Richard David Bebout was born on July 29, 1937 in Chester, West Virginia, to Richard N. Bebout and Lucille (McMillin) Bebout.

He worked for Montgomery Wards, J.C. Penney, Hasbro Co., Kathryn Grey Soaps, Cowboy Sales, and as a Real Estate agent. He lived in West Virginia, Ohio, Rhode Island, New York, and Pennsylvania until he finally settled in Riverton in 1979.

On November 10, 1956 he married Linda Leigh in East Liverpool, Ohio. Together they raised four children.

Dick was a member of the Riverton City Council from 2000 to 2002, a member of the Riverton Kiwanis from 1995 to 2000, holding the office of President in 1997-98. In 2006 he was awarded the Riverton Chamber of Commerce Lifetime Service Award.

Along with all of his civic activities he was also very active in his church. He sat on the parish council for St. Stephens Catholic Mission.

Even with all of his activities he still found time to enjoy fishing, gourmet cooking, gardening, watching pro football, and discussing politics.

He is survived by his wife of 55 years, Linda, his sons, R. Douglas Bebout and Adam L. Bebout and his wife Stephanie; his daughters, Elizabeth Dyer and her husband Bruce and Nicole Schoening and her husband Scott. He also is survived by his seven grandchildren, Devin, Madison and Andrew Bebout, Abby, Anna, and Katia Dyer and Cameron Schoening. Brother, George Bebout and sister, Ann Francis also survive.

He was preceded in death by his parents, grandparents, Wallace and Iva McMillin, and Pearl Booth and Elmer Bebout.

Memorials may be made to Help for Health Hospice or the WPBS Foundation in care of Davis Funeral Home. On-line condolences for the family may be made at www.TheDavisFuneralHome.com.