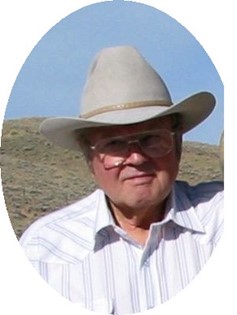 Bud Boller
Aug 20, 1928 - Aug 22, 2012
Bud Boller of Dubois passed away Wednesday morning, August 22, 2012, at the Help for Health Hospice Home. Private family services were 10:00 a.m., Friday, August 24, 2012, at the Davis Funeral Home. Burial followed at Mountain View Cemetery.

Lewis Murray "Bud" Boller Jr. was born August 20, 1928, in Fort Collins, Colorado, to Lewis Murray Boller Sr. and Zanpher Kate (Harris) Boller. He was an enrolled member of the Eastern Shoshone tribe. When he was six months old, the family moved to Los Angeles, California, where he grew up and graduated from Fremont High School in 1947.

Bud moved to Wyoming at the age of 28 with his wife, Pearl (Hamilton) Boller and their children. They lived at Fort Washakie, later in Lander and then moved to the Red Creek area of Dubois in the 1970's.

Bud was a renowned bronze sculptor of Western and religious art. He was completely self-taught and his work has been collected nationally and internationally. Before making a living as an artist, Bud worked for Union Oil in Los Angeles. When the family moved to Fort Washakie, Bud managed the Chief Washakie Plunge. He was also deputized with the Wind River Police, holding badge number 4. The family moved to Lander after he bought Lander Saddlery and Sporting Goods.

He married Verna Morris on May 30, 1999, in Mission, Texas. They made their home at Red Creek and were very active members of the Dubois community.

In his spare time, Bud enjoyed fishing, boating, raising horses, and spending time with his family. He also loved to draw and make saddles and tack.

Bud is survived by his loving wife, Verna; four daughters, Deborah Kate Boller (James Sanders) of Oakland, California; Beverly Marlene Paddleford (Monte Paddleford) of Lander; Rebecca Lynne Ashcraft of Kansas City, Missouri; and Jennifer Leigh Brown of Riverton; stepchildren, Kelly A. Paine (John Paine) of Springfield, Virginia; Robert Kelsey (Kimberly Kelsey) of Dallas, Texas; and Steven Kelsey (Susan Kelsey) of New York City, New York; 15 grandchildren; 40 great-grandchildren; sister, Lenora Grace Bulen of Seattle, Washington; daughter-in-law, Julia Samson (Ray Samson) of Charleston, South Carolina; numerous extended families of the Eastern Shoshone and Northern Arapaho tribes.

He was preceded in death by his parents and his son, Randall Lewis Boller.

On-line obituaries are available and condolences for the family may be made at theDavisFuneralHome.com

Services are under the direction of the Davis Funeral Home.