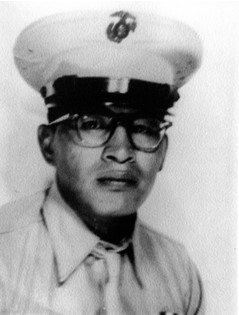 Gerald P. "Jerry" Headley, Sr.
Mar 6, 1946 - Sep 1, 2012

Gerald P. "Jerry" Headly, Sr. 66, of Arapahoe died Saturday, September 1, 2012 at the Wyoming Medical Center. Funeral Mass will be 10:00 a.m., Friday, September 7, 2012 at the St. Stephen's Catholic Church. Burial will follow at the Arapahoe Catholic Cemetery. A rosary will be 7:00 p.m., Thursday, September 6, 2012 at the church, a wake will follow at the family home, 50 Left Hand Ditch Road, Arapahoe, Wyoming.

Gerald Paul Headley, Sr. was born March 24, 1946 at Fort Washakie, Wyoming to Arnold Headley and Catherine (Bear) Redfield. He was raised in Thermopolis and graduated Flandrea Indian High School in South Dakota. He attended Fort Lewis College in Durango, Colorado before serving in the US Marine Corp during Vietnam. He received the National Defense Service Medal, Vietnam Service Medal with One Star, Vietnam Campaign Medal with Device, Combat Action Ribbon, Riffle Sharpshooter Badge, and the Purple Heart. He was honorably discharged on January 11, 1969 as a Corporal.

He was a member of the St. Margaret's Catholic Church, ARTHUR-ANTELOPE BROWN POST NO. 84 and served many years as commander.

He moved back to Arapaho following his military career. He married Alice L. Bell on July 15, 1984 at St. Stephen's Catholic Church.

His family said he was an avid outdoorsman who taught all his kids to hunt and fish. He enjoyed reading Western Books especially Louis L'Amour novels, watching the Denver Broncos and boxing on T.V. He enjoyed spending time with his grandchildren and traveling all over mainly in the mountains.

He worked most of his life for the Road Department with the BIA and was currently employed by the Arapaho Economic Development Committee. Throughout his life he also worked on Oil Rigs, the Arapaho Ranch, the Riverton VA clinic, and the Wind River Casino Security.

He is survived by his wife, Alice; Aunt, Delight O'Neal; children, Gerald "Percy" Headley, Jr., Corrine Addision, Cathy Headley, Christina Bell, Chelsie Wolf, Ron Howard, and Martin Brown; siblings, Kenny Redfield, Sr., Charles Redfield, Rhonda Medebeles, John Headley, Ida Monroe and husband Wesley, Joyce Underwood and husband Ray, Mike Duran, Delmar Duran, Sr., Judy Duran, Oliver "Bobby" Bear, Ivan Bear, Tommy Y'Barra, Louis Headley, Carlene Headley, Sandra Oldman and their families; grandchildren, Alex, Austin, Cecelia and Lyndsey Eagle, Rose Mary, Jaden, Faith, Gabriella, and Catherine Headley, Lyndsey Eagle, Miles Glick, Elizabeth and Brianna Howard; great grandchildren, Alex Jr. and Hollie Eagle, Skylah and Nickoli White Antelope; and numerous other relations of the Monroe, Duran, Shakespeare, Headley, Brown, Willow, Y'Barra, and relatives in Montana of the Bear and Brockie Families and the Nez Perce Families.

He was preceded in death by: his father, Ronald Headley, mother, Katherine Redfield, uncles, Carl, Wilbur, and Stewart Headley, Dewey and Charles O'Neal, Philip Bear and Albert Willow, brothers Quinton Headley and Reno Soundingsides, nephews, Alfred and Christopher Topaum and Neal Moon.





On-line condolences for the family may be made at: theDavisFuneralHome.com.

Services are under the direction of the Davis Funeral Home of Riverton.