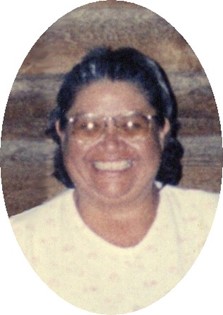 Linda Joyce Revere
Jul 2, 1955 - Sep 8, 2012
Funeral services for Linda Joyce Revere, 57, will be held 10:00 Wed., September 12, 2012 at St. Joseph's Catholic Church with Father John Gaffney officiating. Interment will follow at the Friday Cemetery. A rosary will be held 7:00 p.m., Tuesday, at St. Joseph's Catholic Church with a wake to follow at the family home, 473 Ethete Road.

Linda died September 8, 2012 at her home in Ethete, WY.

She was born July 2, 1955 in Riverton, Wyoming, daughter of James Nicholas and Amelia (Coldwell) Sitting Eagle.

Linda attended schools at N & South, Starette, Lander High School and CWC.

On August 4, 1985, she married Paul W. Revere, Sr.

Linda had lived in California, but most of her life was spent in Wyoming.

She worked as a CNA, was a Family Service Manager and worked in a daycare facility.

Linda enjoyed reading, going to pow-wows, watching movies, taking care of children from Early Headstart and Headstart and cooking.

Mrs. Revere volunteered for the March of Dimes.

Survivors include her sons, Clayton Warren, Paul Revere, Jr., Reuben Revere, Thomas Revere, Eli M. Bald Eagle, Jr., Lynn Norse, Will Wallowingbull, Steven Sitting Eagle, Jr., Sam Wilson, and JR Duran; daughters, Antoinette Moss, Toni Coulston, and Sara Wilson; brothers, John Surrell, Jr., Eugene Duran, Joe Brown, and Harold Smith; sisters, Susan Duran, Vicki Eagle, Leanna Sitting Eagle, Ruebenna Aguilar, Emily Surrell, Dorothy Sitting Eagle and Gladys Whiteplume; 90 grandchildren and 4 great grandchildren; numerous nieces and nephews. Linda also adopted a lot of kids.

She was preceded in death by her husband, parents, brother, Steven W. Sitting Eagle, Sr., aunt, Patricia Behan, and nephew, Terry C. Coulston.

On-line condolences for the family may be made at: theDavisFuneralHome.com.

Services are under the direction of the Davis Funeral Home of Riverton.