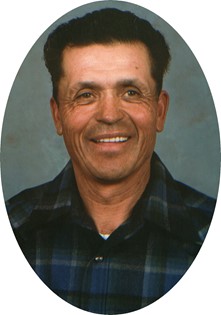 Juan Roman
Sep 15, 1929 - Sep 14, 2012
Funeral services for Juan Roman, 83, will be held 10:-00 a.m., Tuesday, September 18, 2012 at St. Stephens Catholic Church with Father John Gaffney officiating. Interment will follow at the Roman Family Cemetery. A rosary will be held 7:00 p.m., Monday, September 17th at St. Stephens Catholic Church.

Juan died 9;14 p.m., September 14, 2012 at his home in Arapahoe, Wyoming.

He was born February 12, 1929 in Chalchihuites, Zacatecas Mexico, son of Silvano and Guadalupe (Mier) Roman.

He was a concrete finisher who retired from Brasil and Sims to ranch full-time. He had been a local rancher since 1952. He enjoyed caring for his livestock, riding horses, visiting friends and family, watching boxing -- especially Muhammed Ali -- and hiking Moccasin Lake. He enjoyed telling stories of the old days.

He was of the Catholic faith.

He is survived by sons Juan Roman Jr. of Riverton, Fernando Roman of Kinnear, Ruben Roman of Arapahoe, Robert Roman of Ethete and Antonio Roman of Arapahoe; daughters, Guadalupe Pingree of Riverton, Alicia Espinosa of California and Mary Apodaca of Arlington, VA; 37 grandchildren, 46 great-grandchildren and on great grandchild; brothers Flavio Roman, Benieto Roman, Tedeso Roman and Ciro Roman; and sisters Herminia Roman de Castillo and Anita Roman de Mier.

He was preceded in death by wife, Theresa Roman; parents Silvano and Guadalupe Roman; granparents Pelipe Roman and Georja Felix and Lucia Mier Ermosillo and Jose Mier; brothers, Manuel Roman, Pablo Roman, Roberto Roman, Salavador Roman and Big Rock Shakespeare; and grandson Joseph Roman.