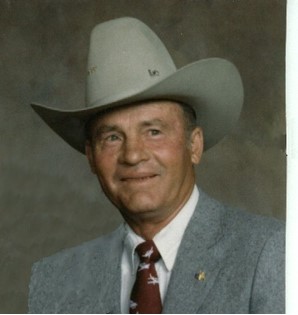 Myron Jarvis
Jan 29, 1925 - Sep 28, 2012

Funeral services for Myron C Jarvis are at 10:00 a.m., Monday, October 1, 2012, at the United Methodist Church in Riverton with Reverend Mark Thurman officiating. Masonic Rites from the Shoshoni Wind River Lodge 25 will also take place.

Interment follows at the Lakeview Cemetery in Shoshoni with Military rites by the Friday-Truan Detachment #683 Marine Corp League & Veterans.

Myron Clifford Jarvis was born in Grand Island, Nebraska on January 29, 1925 to Durward Dewey and Anna Marie (Merz) Jarvis. He was raised in the Sandhills near Mullen and Seneca, Nebraska where he attended a one-room schoolhouse. His family moved to the Missouri Valley area in 1938 when he was 13 years old. He helped his father clear and break out a new farm on the lower end of the Valley in preparation for the Midvale water that was turned on in 1939. He attended Shoshoni Public School until eighth grade when he headed for San Francisco with his friend, Dale Downey for work.

In 1943, Mr. Jarvis joined the U.S. Navy and was stationed in San Francisco where he drove the limousine for officers and was in the Port of Directors and was honorably discharged in 1946. When he returned form the Navy he proceeded to get his pilots license and practiced tail spins over his finance's residence in Bonneville.

He married Betty Comes of Bonneville, Wyoming on October 23, 1949 and shared 62 years of marriage. He built their first house, a two-bedroom home on his folk's original place in Missouri Valley and helped his father farm.

In 1954, he leased a farm in Missouri Valley and moved there to begin farming on his own. In 1956, he purchased a place in lower Missouri Valley and moved his family into barracks located on the farm that came from Heart Mountain Internment Camp. In 1966, he proceeded to build a new home on the property.

In 1965, Mr. Jarvis and George Pingetzer formed a corporation and purchased summer range for their cattle in the Moneta-Highland area. Later they split to purchase their own summer range. In 1980, he renewed his pilot's license and purchased a Citabra airplane for checking cows and water wells on the summer range.

Mr. Jarvis was a member of Shoshoni Wind River Masonic Lodge No 25 for 60 years and was Master in 1961 and Mason of the Year in 2004. He was a member of the Kalif Shrine for 26 years. He served three times on the Shoshoni School Board, two terms on the Farmers Home Administration Board, two terms on the Midvale Grazing Board, and fours on the Fremont County Weed and Pest Board. He was a member of the Fremont County Cattlemen's Association, the Wyoming Stock Growers and National Cattlemen's Association, National Riflemen's Association and the Missouri Valley Fire Department, where he served as Fire Chief.

Mr. Jarvis received the following awards: 1960, Outstanding Young Farmer from the Riverton Jaycees; 1983, Cooperator of the Year from the Riverton Conservation District for accomplishment in the conservation of soil, water, and related resources; 1984, Outstanding Conservationist from the Wyoming Association of Conservation Districts; 1986, Man of the Year in Agriculture from the Riverton Chamber of Commerce.

Mr. Jarvis was preceded in death by his parents, Durward Dewey in 1957 and Anna Marie in 1988; and his brother, Duane in 2000.

He is survived by his wife, Betty; sister, Charity Ann Fike; children, Greg, Michael, Jane Ferries and Peggy (James) Blaha; 13 grandchildren and 10 great grandchildren.

Memorial may be made to Help for Health Hospice, 1240 College View Drive, Riverton, WY 82501.

Services are under the direction of Davis Funeral Home.