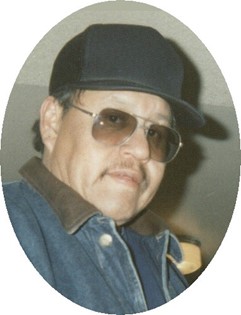 Medrick H. Moss, Sr.
Dec 6, 1946 - Oct 13, 2012

Medrick H. Moss, Sr., 65, of Araphoe died Saturday, October 13, 2012 at Riverton Memorial Hospital.

Funeral services will be 10:00 a.m., Thursday, October 18, 2012 at St. Stephen's Catholic Church. A rosary will be 7:00 p.m., Wednesday at Eagle Hall with a wake to follow at 44 C'Hair Lane. Internment will be at Arapaho Catholic Cemetery.

Medrick Herman Moss was born December 6, 1946 in Fort Washakie to Herman Joseph Moss, Sr. and Rosie (Bitner) Moss. He grew up around Ethete and Arapahoe. He graduated Flandreau Indian School. He also lived in Hudson and Glasgow, Montana. He married Wilma Rose C'Hair in Lander on July 20, 1973. She preceded him in death.

Medrick was honorably discharged from the United States Army on January 1, 1974.

He was a member of Trosper Redman Moss American Legion Post #86 and formerly belonged to Arthur Antelope Brown American Legion Post #84. He also was a member of the Saint Stephen's Catholic Church.

His family said he enjoyed playing with his grandchildren and great grandson. He also liked to go to the casino and play bingo. When he was younger he traveled to Oklahoma taking his family, fishing, hunting and watching basketball.

He worked for the C-Store gas station, Arapaho Housing and the Araphoe School.

He is survived by sons, Ronald White, Medrick Moss, Jr., Bryson Whitewolf, Mitchell C'Hair, Sr. and wife Vicki, Mark C'Hair; daughters, Johnna Moss, Madonna Oldman, Kenzee C'Bearing; brothers, Leonard R. Moss, Sr. and wife Alice, Donald Moss and wife Linda, Alonzo Moss, Sr., Nelson Moss and wife Emma, Patrick Moss, George Moss and wife Eunice, Leonard J. Moss, Sr., Wayne Brown; sisters, Susanna Oldman, Rosella Moss, Ursula Aragon and husband Robert, Maxine Moss, Anita Carrier, Gloria Wheeler and husband Larry, Frances Heindenberg, Vera C'Hair, Rochelle C'Hair, Sadie C'Hair and Duane Bell; aunts, Virgina Antelope, Geraldine Brown, Effie Urevich and husband Leonard, Anita Portwood; uncles, John Warren, Sr., Bobby Warren, adopted parents, Burton Hutchinson, Sr. and Joyce; grandchildren, Brandi, Dylan, Joshua, Jaymes, John, Blasé, Cetara, Ciera, Brandon, great grandson, Kaiden.

He was preceded in death by his parents, Herman J. Moss, Sr., Rosie Bitner Moss and Eileen Moss; his wife Wilma "Rose" Moss; son, Mitchell Patrick Moss and companion Olivia Black; brothers, Kendall Moss, Sr., PFC Weldon Dale Moss, Herman J. Moss, Sr., Norman Moss, Charles Moss, Richard Moss, Raphael Moss, Paul Moss, Jr., John P. Moss; sisters, Tekawitha SunRhodes, Delores Moss, Eileen C'Bearing, Vicky Friday, Julie Brown, Elizabeth Brown, Mary Theresa Moss, Marie Ann Moss and L. Cpl Amanda Carrier; grandson, Bradley N. Moss; nephew, Curtis Wheeler; friends, Ed Underwood, Douglas Whiteplume, and Jerry Headley.

On-line condolences for the family may be made at: theDavisFuneralHome.com.

Services are under the direction of the Davis Funeral Home of Riverton.