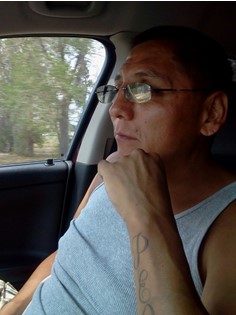 Clifford Duran
Aug 3, 1973 - Oct 17, 2012
Funeral services for Clifford Ray Duran, 39, will be held 10:00 a.m., Tuesday, October 23, 2012 at St. Stephens Catholic Church. Interment will follow at the Arapaho Catholic Cemetery. A rosary will be held 7:00 p.m., Monday, Oct 22nd at Davis Funeral Home. A wake will follow at Erin Duran's residence, 1410 Quiver Lane.

He died October 17, 2012 at the Lander Valley Medical Center.

Clifford was born August 3, 1973 in Riverton, WY, son of Sherman Jenkins, Sr. and Virginia Jane Duran.

He attended schools in Arapaho, St. Stephens and the Chemawa Indian School in Salem, Oregon.

Clifford enjoyed spending time with his family and listening to music and cruising.

He was a member of the Native American Church, and of the Catholic faith.

Survivors include his companion, Juanita Weed; daughters, Adrina Duran, Taiyah Duran, Janie Duran, Kayden and Kalissa Underwood; brothers, Myron Chavez, Dominick Bellymule, Sherman Jenkins, Jr., Saul Jenkins, Wallace Jenkins, Will Ty Jenkins, Eric Underwood, Aaron Underwood, Michael L. Duran, Shane Duran, Damon SunRhodes, Leo H. Monroe, Sr., Virgil Monroe, Newell Duran, Verdale Duran, Alfred Duran, Kincaid Duran, Forrest Duran, Brian Bell, Alan Jenkins, Alfred Bell, Sr., Paul Bell, Sheldon Bell, Gaylen Littleshield, Delmer Duran, Jr., Fredrick Monroe, Jr. "Stoney", Wesley Monroe, Ronald Monroe, Claudio Duran, Shado Duran, Lamar Duran, Tomas Ybarra, Jr., Norman Ybarra, and Gerald Percy Headley; sisters, Michelle Jimerson, Margarett Jenkins, Sheryl Jenkins, Kathy Bell, Irene Dewey, Erin Duran, Diana Underwood, Caroline Tyler, Beatrice Monroe, Trishanna SunRhodes, Theda Monroe, Reva SunRhodes, Lorraine Monroe, Priscilla Bell, Sandy Bell, Valerie Bell, Candy Littlethunder, Mary Ellen Pingree, Morietta Duran, Cassandra Duran, Cori Duran, Chalice Shakespeare, Claudette C'Bearing, Stephanie Duran, Dela Ybarra and Cathy Headley; uncles, Delmar Duran, Sr., Claude Duran, Michael G. Duran, Tommy Ybarra, Sr., Kenny Redfield, Sr., and Chuck Redfield; aunts, Joyce Duran, Judy Duran and Ida Monroe; nephew, Darrell A Lopez, niece, Shantel L. Lopez.

Mr. Duran was preceded in death by his parents, sisters, Kimberly Ann Evening, Almeta Ute, and Lisa and Karla Jenkins; brothers, Marshall Grant Duran, Ronald Behan, and Roderick Underwood; grandparents, Ida Mae Willow Duran and Stephen Duran, Sr., George and Clarice Jenkins; uncles, Kenny Jenkins, Clarence Jenkins and Isaac Jenkins and aunt Florita Jenkins.

On-line obituaries are available and condolences for the family may be made at: theDavisFuneralHome.com

Services are under the direction of the Davis Funeral Home of Riverton.