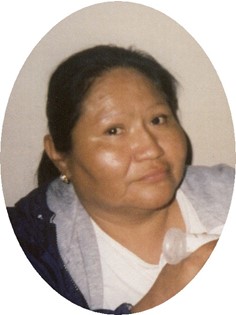 Claudean "Otis" Trumbull
Feb 4, 1960 - Oct 18, 2012
Claudean "Otis" Trumbull, 52, of Arapahoe, died Thursday, October 18, 2012 at Riverton Memorial Hospital. Services will be held on Wednesday, October 24, 2012 at St. Stephen's Catholic Church, Father Vincent Albano will officiate. Burial will follow at Arapaho Catholic Cemetery. A rosary will be held on Tuesday, October 23, 2012 at 7:00 pm at Great Plains Hall with a wake following at 428 Little Wind River Bottom Road.

Claudean Marie Trumbull was born on February 4, 1960 in Riverton, WY to Clark Trumbull Jr. and Molly (Potter) Trumbull. She attended grade school at St. Stephen's Indian School and high school at Intermountain High School in Brigham, UT. She lived on the Wind River Reservation all of her live except for six months in Aurora, CO.

She worked at Northern Arapahoe Sewing. She enjoyed making flowers, walking, beading, and spending time with family, friends, and her grandchildren.

She is survived by her son, Horace SunRhodes; daughters, Mollie M. Trumbull and Irene SunRhodes; her brothers, David C. Spoonhunter, Clyde M. Spoonhunter, Eugene Mosqueda, Virgil SunRhodes, Don Gambler, Andy Bearing, Butch Bearing, Benson Bearing, and CJ Potter; her sisters, Felicia Bearing, Denise Bearing, Glynnes Bearing, Cynthia Bearing, Etheleen Potter, Ginger Potter, Rose Potter, Donna Ani, Brandi DeCoteau, Dawn Spoonhunter and Francine Bell; aunt, Beatrice Buckman; and eight grandchildren.

She was preceded in death by her parents; son, Saul T. SunRhodes; granddaughter, Kai L. St. Clair; her sister, Karen A. Trumbull; and her brothers, Dwight M. SunRhodes, Cory SunRhodes, Levi T. Trumbull, Clark Trumbull III, and Lorry J Spoonhunter.