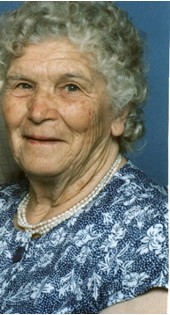 Evelyn Horton
Mar 17, 1923 - Nov 1, 2012
Evelyn Horton, 89 of Riverton, went home to be with the Lord at 11:20AM Thursday, November 1, 2012, at Wind River Health Care Center. She was a loving wife and mother. Services will be held on Tuesday, November 6, 2012 at 1:00 PM at Davis Funeral home. Viewing will be at Davis Funeral Home from 12-1:00 pm on Tuesday, November 6, 2012. Pastor Tim Senter of Mountain View Baptist Church will officiate. Burial will follow at Mountain View Cemetery in Riverton.

Evelyn Matthew was born on March 17, 1923 in Tonkawa, Oklahoma to Preston Kenton Matthew and Eveline (Graham) Matthew. She attended schools in Oklahoma before moving to Wyoming. She was a dedicated and faithful wife and mother for 53 years. Evelyn was a wonderful contributor to our community. She spent 20 years as a Senior Companion to the elderly. Evelyn served in homes of the elderly and homebound by cleaning, running errands and grocery shopping. She visited her friends regularly giving them needed companionship and love, ensuring they were not isolated or forgotten.

She worked in the Frontier Café in Riverton during July 1958 where she met her future husband, John R. Horton. They were married on April 14, 1959 at Highland Southern Baptist Church in Cody, WY. They made their home in Riverton and raised six children. Evelyn was a devoted herself to the Lord and her family.

She worked as a waitress at various times, but gave most of her life to serving with families. For 14 years, Evelyn worked with her husband and children cleaning railroad boxcars before dedicating the greatest portion of her life at Riverton Senior Citizens. She served others through Riverton Senior Citizens for twenty years before finally retiring. While working as a Senior Companion, she received the 2004 Gold Presidential Volunteer Award for her service to local seniors. She was of the Christian faith and the love of Jesus that abided in her radiated readily to others. She loved serving others just as her Savior loves to serve. She attended Mountain View Baptist Church in Lander. Her family said she enjoyed embroidering and working in her yard.

She is survived by her husband, John R. Horton; sons, Mark Horton of Denver, CO, Thomas J. Thomas of Gridley, CA, and Ronald Horton and wife Della of Riverton, Wyoming and daughter Connie Lawson along with numerous grand children and great grandchildren.

She was preceded in death by her parents, a sister Marine Condo, and three sons, Matthew Horton, Allan Horton and Wayne Oswald.

Memorials may be made to the Horton family in her memory. Services are under the direction of Davis Funeral Home. On-line condolences for the family may be made at www.TheDavisFuneralHome.com.