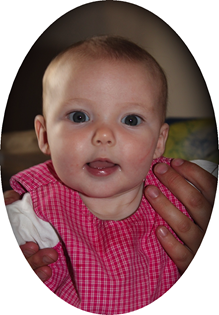 Iris Grace Holloway
Jun 5, 2012 - Nov 7, 2012
With grieving hearts, we announce the death of baby Iris Grace Holloway.

She was born June 5, 2012, in Laramie, to wonderful parents, Katrin and Joseph Holloway and proud brother Wyatt William Holloway. Her time with us was too brief - every moment with her was a moment of joy.

She left us on November 7, 2012, but will live on forever in our hearts. Iris was a beautiful baby, with a strong spirit and a smile that brightened our whole world. We feel so fortunate to have had her in our lives, and to know she now watches from above, at peace among the stars.

Iris is survived by her parents and brother of Laramie; grandparents Joe and Janice Holloway of Basin, grandparents Gerald and Annette McDonnel of Lander and many aunts and uncles.

A Funeral Service will be held on Saturday, November 10, 2012 at 2:00pm at the Davis Funeral Home in Riverton, with burial services following at Mount Hope Cemetery in Lander.

A visitation will be held 12:30 p.m. to service time at the funeral home. Memorial contributions may be made to the account set up in her name at the Meridian Trust Federal Credit Union in Lander.