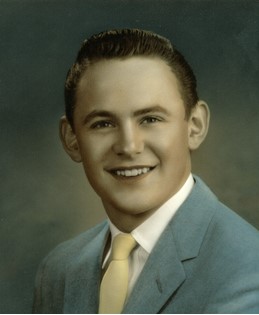 Phillip Wayne Tuss
Jun 4, 1943 - Nov 13, 2012
Phillip Wayne Tuss, age 69, passed away on the morning of November 13, 2012 at his home in Riverton. He was born on June 4, 1943 in Lewistown, MT to Vincent Walter Tuss and Evelyn Carmen Wallace Tuss. He was the seventh of nine children and was affectionately known as 'Bugga' to his family, classmates and close friends. He was an avid workaholic and became a meat cutter by trade in his early years in Lewistown. In July of 1961 he married Lynda Louise Graham and they had three children Matthew Wayne, Tracey Lynn, and Mitchell Edward Tuss. After living in Lewistown, Malta and Glasgow, the family moved to Casper, WY in 1973. After divorcing in 1984, he married Carol Manley on May 10, 1986 in Riverton, where they shared their lives together.

He is preceded in death by his father Vincent, mother Evelyn, brothers 'Sonny' (Vincent), Bernie (Bernard), and Tony, sisters 'Bebe' (Dolores) and Sene (Maxine), his son Matt, grandson Christopher and former wife Lynda. Survivors include his wife Carol Tuss of Riverton, daughter Tracey Tuss of Denver, CO, sons Mitchell (Toni) Tuss of Dexter, MI, Todd Manley of North Platte, NE., Sister Dolly (Ed) Preston of Allyn, WA, Brother Bud (Deanna) Tuss of Lake Havasu, AZ., Brother Nick (Dwyer) Tuss of Federal Way, WA, 6 grandchildren, Adam Fisher, Tami (Bill) Chronowski, Ricky Royer, Dustin Royer, Rori Manley and Masyn Manley, 3 great-grandchildren, Kaelia and Korian Chronowski and Aspen Royer, numerous nieces, nephews and cousins. Visitation will be at the Davis Funeral Home in Riverton on Friday, November 16, 2012 from 5-7pm. Funeral Services will be conducted at the funeral home on Saturday, November 17, 2012 at 2:00pm. Burial will follow in the Mountain View Cemetery in Riverton.

Memorial donations would be appreciated to Help for Health Hospice or the Heart Association in care of Davis Funeral Home.

Phil was a hard working, dedicated man who worked with his hands every day of his life. His hobbies outside of working 2 or 3 jobs were small projects around the house and even some not-so-small projects around the house. Always a reader and a thinker, he did not consider himself to be book smart but held a world of common sense in his head that made him successful even when life challenged him. On-line condolences for the family may be made at: theDavisFuneralHome.com. .