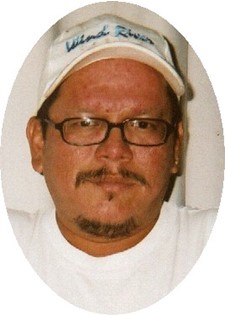 Dominic Geboe
May 27, 1971 - Nov 20, 2012
Dominic "Dom" Geboe, 41, died on Friday, November 16, 2012, in Scottsbluff, Nebraska. Services will be held on Saturday, November 24, 2012, at 10:00 am at St. Stephen's Catholic Church with burial to follow at the Arapaho Catholic Cemetery. A rosary will be held on Friday, November 23, 2012, at 7:00 pm at Eagle Hall with wake to follow.

Dominic Francis Geboe Sr. was born on May 27, 1971, in Riverton, WY to Charles Eli Geboe Sr. and Carla May (Oldman) Geboe. He was raised in Thermopolis, WY and lived there and Arapahoe until last year when he moved to Casper, WY. He attended schools in Arapahoe and Thermopolis. He graduated high school with the class of 1994. He married Leslie Ann Big Medicine on April 7, 2008 in Lander, WY.

He worked on the Arapaho Ranch, in the oilfields, and recently at Howey Home Improvements in Casper, WY.

He was of the Catholic religion and also the Native American Church. He participated in sweats, peyote meetings, and other religious ceremonies.

His family said he enjoyed hunting, fishing, camping, going to the casinos and masquerading at parties.

He is survived by his wife, Leslie Ann; his mother, Carla Geboe; parents, Rose Oldman, and Darlene (Ray) Howey; sons, Dominic F Geboe Jr., Eli James Geboe, and Reland P Littleshield; daughters, Dawn M Goggles and Mekia N Geboe; sisters, Mary Dewey, Alberta Oldman, Bridget Oldman, Abby Dewey, Caroline Dewey, Sherry Dewey, Pamala Geboe, Valinda Brown, Roberta Behan, Stephanie Behan, Edelch'e Eagle, Rochelle Fox, Avis Blacky, Lauriann Yazzie, Rosa Duran and Venora Upshaw; brothers, Charles E Geboe Jr., Gary C Oldman Sr., Lance D Oldman, Franklin J Oldman, John M Goggles, David Dewey, Jerome Dewey, Francis Behan Jr., Gary Behan and Cody Eagle; grandparents, Susan Crazythunder, Ruth Mary Goggles, Mary Florence Bell, Mary (Jack) Herrera, Dorothy Gambler, Ruby (Burnett) Whiteplume, Caroline Goggles, Daniel Oldman, Sr. and John Oldman; uncles, Kenny Blackburn, Wayne Brown, George Smith, Franklin Aramajo, John Addison and Wallace Oldman; aunts, Evelina Blackburn, Connie Brown, Thelma Dewey, Elsie Geboe, Rosie Montoya, Evelyn Veria and Roberta Eagle; nephews, Thomas LittleHawk Oldman, Crawford Oldman, Matthew Oldman, Gary Oldman Jr., Travis Oldman, Trever Oldman, Raymond Chandler, Donavon Chandler, Baushawn Behan, Francis Behan Jr., Jonathan Quiver, Whitlee Whiteman, Mitchell Whiteman Jr., Chevey Whiteman, Levi Behan and Alton Quiver; nieces, Rikki Oldman, Viola Oldman, Mikylen Oldman, Samantha Oldman, Autumn R Oldman, Alta Chandler, Shotnei Brown, Lauronah Arthur and Ryannen Behan; grandchildren, Blaine Oldman, Jr., Dawnt'e Oldman, Corbin Oldman, Evan Oldman, Thurlo Jenkins III, Ben Oldman, Juwan Montoya, and Maeslynn Oldman.

He was preceded in death by Charles E Geboe, Sr., Benjamin T Oldman, Sr., Jerome H Oldman Sr., Benjamin M Oldman, John B Oldman, Jr., Southerman Addison, Glen Nelson Oldman, Robert Geboe, Jr., Robert Goggles, Viola Ann Smith, Pauline C'Hair, Bertha Oldman, Lucy Williams, Viola Geboe and John B Oldman, Sr.

Services are under the direction of Davis Funeral Home. On-line condolences for the family may be made at www.TheDavisFuneralHome.com.