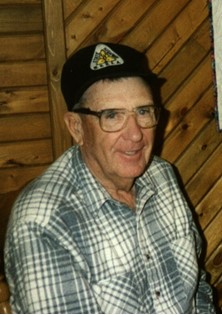 Gale Gordon
Mar 20, 1920 - Dec 8, 2012
Gale Gordon of Riverton died Thursday, December 6, 2012 at Riverton Memorial Hospital. He was 92 years old.

Cremation has taken place and there will be a memorial service this coming summer.

Gale O'Dean Gordon was born March 9, 1920 in Stapleton, Nebraska, the son of Henry Francis and Sarah Ellen (Burnside) Gordon.

In 1924, with his family, they moved from Nebraska to the Waltman/Hiland, Wyoming area and took up a homestead there. He attended school up to the eighth grade while living out there.

His father passed away in 1932, so he and his mom moved to Lander, where he worked on many of the farms and ranches in the valley. Gale played guitar with many of the guys on Saturday nights at Milford and other hot spots around town.

On June 16, 1941, he married his sweetheart, Rosalie Cornwell, in Lander. They had three children, Gary, Kenny and Elizabeth.

He went to work for the Casper Dairy, living in Casper and Hudson. In November, 1946, they moved to Sand Draw, Wyoming, where he went to work for Sinclair Oil and Gas until his retirement in March, 1982.

In September, 1982, they moved to Dubois, Wyoming, until 2009, and then to Riverton.

Gale loved to tinker with old cars, restoring what he could, going fishing, having a garden, and hunting.

He is survived by his wife of 71 years, Rosalie, of Riverton; a daughter, Elizabeth and her husband Doug Pryor of Riverton; a son Kenneth and his wife Kathy Gordon of Riverton; and a son Gary and his wife Linda Gordon of Lander; grandchildren, DeAnna and David Western of Gig Harbor, Washington, Kelly and Rod Ruffing of Minot, North Dakota, Gary and Leslie Gordon of Kalispell, Montana, Michelle and Brian Duke of Beverly Hills, Florida, Amy Monrow of Riverton, Jennifer and Cory Sinclair of Beverly Hills, Florida, Kevin and Tina Gordon of Riverton, and Karmen Allen of Riverton; and twenty-one great-grandchildren and step-children.

He was preceded in death by his parents; a sister, Frances and a brother, William Gordon.

On-line condolences for the family may be made at www.TheDavisFuneralHome.com.

Arrangements are under the direction of the Davis Funeral Home.