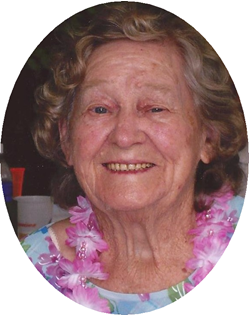 Mildred "Mae" Case
Oct 21, 1921 - Dec 9, 2012
Funeral services for Mildred "Mae" Case, formerly of Fremont County, will be conducted at 10:00 a.m. Thursday, December 13, 2012 at Davis Funeral Home, with Pastor Mark Thurman of the United Methodist Church officiating. Burial will follow at Mountain View Cemetery.

A viewing will be held from 4:00 to 7:00 p.m. Wednesday, December 12, 2012 at the funeral home.

Mildred Mae Case died Sunday, December 9, 2012 at Pioneer Manor in Gillette. She was 91 years old.

Mildred Mae Jacques was born in Casper, WY on October 21, 1921, the daughter of Paul Louis Jacques and Mildred M. (Corkill) Jacques.

She resided in Casper until the age of 15. She attended Mitchell, NE grade school, Natrona County High School in Casper, and Morton High School. She lived in Kinnear for five years, Pavillion for 12 years, Oregon for two years, Lander for 11 years, Hanna for 35 years, and Gillette for the past 1½ years.

On October 14, 1940, she married Max Elmo Case in Casper. He preceded her in death.

Mrs. Case was a farm wife and homemaker, a restaurant cook, a school lunch cook, and a chef at the El Toro in Hudson and the Noble Hotel in Lander.

She was of the Methodist faith and was active in the United Methodist Women.

Mrs. Case was a member of the Jolly Neighbors Homemakers Club, the Hanna Democratic Women, Red Hats, Birthday Club, and was a Civil Defense Coordinator in the early 1960's.

She enjoyed cooking, gardening, canning, embroidery, crochet, sewing and collecting.

Among her survivors are daughters, June Coley of Hanna, Elaine Buckendorf of Hanna, and Linette West of Gillette; eight grandchildren and 17 great-grandchildren and nine great great-grandchildren.

Mrs. Case was preceded in death by her husband, Max E. Case; her parents, Paul and Mildred Jacques; brothers, Charles Jacques of Casper and James Jacques of Riverton; sister, Donna Hedges of Riverton.

On-line condolences for the family may be made at www.TheDavisFuneralHome.com.

Services are under the direction of Davis Funeral Home.