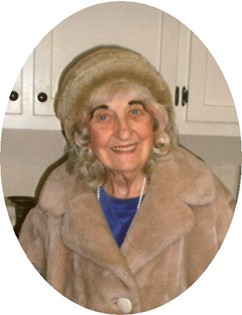 Sophie Tomisich
Jan 21, 1922 - Dec 9, 2012
Sophie Tomisich, a life-long Hudson resident, passed away on December 9, 2012 at University Hospital in Salt Lake City, UT. She was 90 years old.

Funeral Services will be 2:00 p.m., Saturday, December 15, 2012 at the Davis Funeral Home in Riverton. Burial will follow at the Hudson Cemetery. A viewing will be Friday evening 4:00 – 7:00 p.m. at the funeral home.

Sophie Vinich was born on January 21, 1922 at the #1 Popo Agie Coal Mine which was located to the south above Hudson. She was the daughter and first child of John Vinich and Helen (Mojas) Vinich. She was baptized as a child in the Serbian Orthodox faith. After the mine where she was born went on strike, her parents moved to Gebo, Wyoming, where her father went to work mining coal.

Sophie attended grade school in Gebo until 1932 when the family moved back to Hudson. Sophie finished grade school, 9th and 10th grades in Hudson. Sophie graduated high school at Fremont County Vocational High in Lander in 1942. During the Great Depression Sophie at age 11 and her brother Mike at age 9, harvested sugar beets for the local farmers for .25 cents a day. Sophie also washed dishes for the El Toro Restaurant during her high school years.

After graduating high school, Sophie moved to Denver, CO., where she worked in a few big restaurants. In 1952 when her father died she moved back to Hudson to be with her mother and family. In 1959 Sophie met and married Peter Tomisich. The two made their home in Hudson. Peter passed away in 1992. After Peter's passing, Sophie moved in with her mother, Helen, and provided the care needs for her mother until she passed away at the age of 100 years old in 2000. Sophie's family greatly appreciated the sacrifice and care that Sophie provided to her mother through those years. Grandma Vinich's greatest fear was having to live out her remaining years away from her home in a care facility. Sophie made sure that didn't happen.

One of Sophie's greatest loves was baking. She was always baking cookies, muffins and cakes and giving them to her family and friends. Sophie liked to sing. She so enjoyed singing Christian hymns in church services. When the opportunity would arise, Sophie would proudly sing and dance to old Serbian folk songs in the Serbian language with her family and friends.

Sophie is survived by her son, Jack Wananda, her two brothers Mike and Lyle Vinich and their families. She was preceded in death by her parents, brother Bob, sister Mary, sister-in-laws Adana and Mabel, niece Michelle and nephews Michael and John.

Memorials in lieu of flowers may be made to The Hudson Homecrafters or the Riverton Animal Shelter in care of the Davis Funeral Home, 2203 W. Main Street, Riverton, WY 82501.

On-line condolences for the family may be made at: TheDavisFuneralHome.com.

Services are under the direction of the Davis Funeral Home of Riverton.