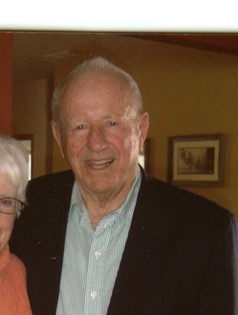 George B. Krause
Jan 23, 1923 - Nov 18, 2007

A memorial service for George B. Krause of Riverton will be held at 11 a.m. on Friday, Nov. 23, at Central Wyoming College in Riverton, in the Fremont Room of the Student Center Building.

A long-time Wyoming beekeeper, Mr. Krause died Sunday night, Nov. 18, 2007, at the Billings (Mont.) Clinic, following a short illness. He was 84 years old.

George Bainbridge Krause was born in Oakland, Calif., on Jan. 23, 1923, to George Krause and Pruda (Moon) Krause. The family lived in California until 1926 when his father moved his family and bee hives to Arapahoe, where they lived in a tent for several months before moving into Riverton.

This was the beginning of the Wind River Honey Company which has continued into the third generation with his son, Larry Krause.

George Krause was graduated from Riverton High School in 1941. After high school, he enrolled at Stanford University in California for two years. He then enlisted in the U.S. Navy where he achieved the rank of Ensign and participated in the Pacific Theater during World War II. After his discharge from the Navy, Mr. Krause returned to Stanford where he was graduated with a degree in civil engineering. He then worked for several years as an engineer for the California Highway Department in Northern California.

While on a ski trip to Squaw Valley, Calif., he met his future wife, Helen Dorward. They later married in San Diego, Calif., on Dec. 20, 1950.

After several years in California, Mr. Krause brought his family back to Wyoming, continuing his father's love of beekeeping and forming a partnership with his childhood friend, Dick Schaefer. Together they continued the beekeeping tradition as partners in the Wind River Honey Co., which they expanded to include a second bee business in Sheridan, Mont.

Mr. Krause continued to run the company until his retirement in the 1990's. His family said that during this period, he formed many lasting relationships with others in the bee and honey industry nationwide.

His family said education was always important to him and he was able to further this interest by serving on the board of trustees for Central Wyoming College.

He was also a charter member of the Riverton Country Club.

Mr. Krause's family said his love of fishing and Wyoming were the reasons he left California and returned to Wyoming. They said he never met a fisherman with whom he couldn't talk. His favorite fishing spots included Upper Brooks Lake and the Sweetwater River. When fishing, he usually had better luck than his partner, teasing him and saying "You're holding your mouth wrong." He enjoyed many fishing trips to Canada with friends and family.

Mr. and Mrs. Krause also enjoyed traveling after retirement and found a small town in Mexico, Miguel de Allende, where they escaped Wyoming's winters.

They said Mr. Krause's greatest enjoyment came from being with his family.

Survivors include his wife of 57 years, Helen; son, Larry and his fiancé, Patty Williams of Riverton; daughters, Elizabeth Krassin and her husband Chris of Lander, and Virginia Martin and her husband Christian of Providence, R.I.; three grandchildren, Alex and Nicholas Krassin of Lander and Arien Krause of Santa Barbara, Calif.; his sister, Phyllis Watlington and her husband Edward of Denver, Colo., and their three children, Susan Watlington, Amy Paramour, and Avery Watlington.

Memorials in his name may be made to the Central Wyoming College Foundation, 2660 Peck Ave., Riverton, WY 82501.

On-line obituaries are available and condolences for the family may be made at: thedavisfuneralhome.com

Services are under the direction of the Davis Funeral Home of Riverton.