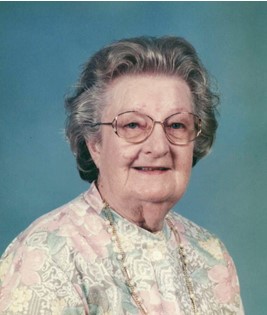 Marcella M. Hubbard
Oct 16, 1919 - Nov 20, 2007
Funeral services for Marcella M. Hubbard of Riverton will be held at 10 a.m. on Tuesday, Nov. 27, at the United Methodist Church of Riverton, with her nephew the Rev. Max Kaser of Cheyenne and Pastor Don Schlichting officiating.

Interment will follow at Mountain View Cemetery in Riverton.

A visitation for family and friends will be held from 6-7 p.m. Monday, Nov. 26, at the Davis Funeral Home of Riverton.

Mrs. Hubbard died of Alzheimer's disease Tuesday morning, Nov. 20, 2007 at Poplar Living Center in Casper, where she had been a resident for the past four years. She was 88 years old.

Marcella May Kaser was born in Pine Bluffs on Oct. 16, 1919, the daughter of Clarence and Verna Kaser. She was graduated from the Egbert High School and received a degree in home economics from the University of Wyoming in 1942.

She married Jent F. Hubbard on Nov. 28, 1946, and raised seven children.

Her teaching career began in Huntley in 1942. She was the Home Demonstration Agent for Fremont County from 1943 to 1945, and then taught home economics, after the death of her husband, at the Riverton Junior High School for 16 years, retiring in 1977.

Mrs. Hubbard was active in 4-H in her youth and continued as a 4-H Leader. She was a superintendent at the Fremont County Fair for over 20 years.

She was a member of the Methodist Church, serving with the Methodist Women's group for many years, always enjoying the holiday bazaars.

She was also a long-time member of the Fremont County 63 Extension Homemakers Club and a member of Delta Kappa Gamma and Retired Teachers.

Her family said Mrs. Hubbard enjoyed sewing, needlework, camping and fishing and especially loved the Warm Springs area in the Wind River Mountains where she visited every summer.

Survivors include daughters, Betty Sheveland of Sylmar, Calif., Jeanette Santilli and her husband Al of Casper, Judy Hubbard of Riverton and Lisa Hubbard of Casper; sons, Jent Hubbard and wife Joy of Fountain Hills, Ariz., and David Hubbard and wife Pat of Kelseyville, Calif.; daughter-in-law, Bonnie Hubbard of Riverton; 17 grandchildren, 27 great grandchildren, and four great-great grandchildren. She is also survived by her friend of over 65 years, Barbara Schwendiman of Albany, Oregon.

In addition to her parents, she was preceded in death by her husband in 1961; brothers Roland and Clifford Kaser; sister, Vivian Konigsfeld; son John Hubbard; son-in-law, David Cain, and granddaughter, Kristie Sheveland.

Memorials in her name may be made to Help for Health, P.O. Box 73, Lander, WY 82520 or the United Methodist Church of Riverton.

On-line obituaries are available and condolences for the family may be made at: thedavisfuneralhome.com

Services are under the direction of the Davis Funeral Home of Riverton.