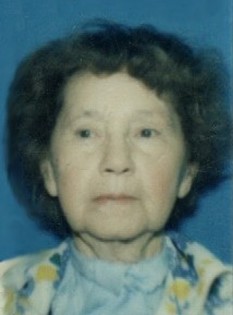 Lois Steen
Dec 10, 1917 - Nov 24, 2007
Artist, writer, carpenter, beloved wife, mother and grandmother, Lois Steen, 90, of Riverton passed away on November 24, 2007 in the Passages Wing of Wind River Healthcare after suffering from dementia for many years. Funeral services are scheduled for 10 A.M. on Thursday, November 29 at the First Baptist Church in Riverton.

She was born in 1917 in Greenville, Mississippi to John and Salle Leach. She was the youngest of four sisters and two brothers and was lovingly referred to as "Baby Lois" by her older siblings and parents.

She married D.W. (Buck) Steen in Greenville in 1934. The couple moved about during the war years while Buck worked on several construction projects on military installations. They came to Wyoming in the 1950's where Buck worked on Bureau of Reclamation projects in both Farson and Riverton. They decided to stay in Riverton and purchased a home. In the 1960's, Lois purchased property on Riverview Road, made all the payments, and then told her husband of the purchase. Together they went on to build a home on that property and enjoyed many years there.

Lois became an accomplished painter, starting first with a paint-by-numbers set, soon realizing she didn't need the numbers. Many of her paintings can still be found throughout the community under her artist signature of "Lee Neets". Lois also wrote many short stories that were filled with humorous observations of her everyday life. She and Buck really enjoyed building things together and they never wasted lumber. Lois once built a house that was suspended in a tree for the family cat. The cat loved it and the house survived several years of use until the night the floor fell out of the bottom, surprising the sleeping cat. Lois had several successful building projects throughout her years, but none made her laugh more than her infamous cat house. Even in the late stages of dementia, Lois could still enjoy a hearty laugh if you reminded her of it.

Two children were born into their union, Gerald and Robert. Both boys remember their childhoods as being fun and eventful as their mother was creative and always ready to laugh.

Buck preceded Lois in death in 1998 after sixty-three years of companionship and love.

She is survived by her son Gerald W. Steen and his wife of June of Fort Collins, CO., son Robert Z. Steen of Riverton, daughter-in-law Patricia Steen of Riverton, seven grandchildren: David Steen of Loveland, CO, Joel Steen of Jal, NM, Robyn Johnson of Riverton, Tony Steen of Casper, Lindsey Steen of Denver, CO, Toby Steen of Denver, CO, and A.J. Steen of Riverton, and numerous great-grandchildren.

Memorials may be made to the First Baptist Church.