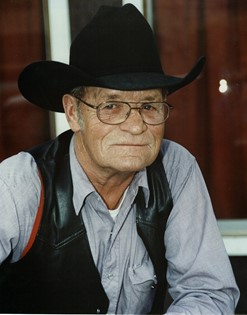 Donald Gene Sheer
Feb 8, 1936 - Nov 28, 2007
DONALD GENE SCHEER OBITUARY FEBRUARY 8, 1936 TO NOVEMBER 28, 2007



Memorial services for Donald G. Scheer will be held at 2:00 p.m. Tuesday, December 4, 2007 at the Dubois Masonic Lodge. Members of the Knights Templar Black Horse Troup will officiate. A Celebration of Life receiption will follow at the Dubois V.F.W.

Mr. Scheer died Wednesday, November 28, 2007 at his Dubois home. He was 71 years old.

Born: February 8, 1936 to Rose R. Koenig Scheer and Martin George Scheer in Center, Nebraska. Don left Nebraska when he was fourteen years old to come to Wyoming to go to work on the Cross Ranch in Dubois. Don lived at the Cross Ranch while he worked and finished high school, graduating from Dubois High School in 1954. Don married Sally Black on 1957 and was working at the Cross Ranch in the Dunoir Valley in 1958. Don and Sally worked at the Rocker A Ranch when their first son Grant Scheer was born. Don and Sally then went to work at the Cross Mill Iron Ranch, then on to Burk Johnson's ranch in 1959 in Crowheart when Denice Scheer was born. Don cut poles and sprayed timber for the US Forest Service. Don and Sally bought a trailer and moved it down to the old Community Corrals at Doug Johnson's place East of Dubois. Don and Sally were divorced in 1963 but remained life long friends. Don married Roberta Ruth Brown on March 25, 1964. Don was riding bare back horses and was making a living at it. Don and Ruth named their first baby girl Theresa, born on April 9, 1965 while the couple lived in the apartments across from the VFW. Don again worked at the CM Ranch and the Cross Mill Iron and tended bar at the Rustic Pine Tavern for Dean Metzger. On August 3, 1967 Ruth and Don had a baby boy and named him Thomas Gene Scheer. Don went back to work spraying trees for the US Forest Service. Don also worked in the oil fields. Don went to work for the Fremont County Sheriff's Department. Don worked for the Sheriff's Department for about three years. Don also comprised the Dubois City Police force, with him being the only one on the force. Don and Ruth bought the Moon Lake Hunting Camp in 1973. Don and Ruth guided many hunters and fishermen, including the actor Mike Douglas. Don took a lot of drop trips all over the mountains of Wyoming. Don and Ruth sold the camp in 2000. Don loved and enjoyed his grandchildren and great grandchildren.

Don will be remembered for many aspects of his life. Overall for being a true Wyoming cowboy, and a bareback rider with a style all his own. One specific contribution that Don gave to the Town of Dubois was starting the Dubois Pack Horse Races that he competed in. Don rightfully earned a buckle each year during the twenty year duration of the races. Even when competing in the Old Timers category Don always calmly tipped his hat as he left the arena. The combination of horses, outfitting, and people was the life he loved and respected.

His lifelong dream was to kill a Big Horn sheep. He put in for a license for 48 years and never once drew a permit.

Don Scheer's affiliations include: Member of the Blue Lodge Number 57 and the Knights Templar Commandery No. 7. President of the Dubois Outfitters Association. President of WRA. Member of the Dubois Chariot Racers, and avid Chariot Racer.

Don was preceded in death by his father Martin George Scheer and his mother Rose Scheer. Don is survived by his wife Ruth Scheer; children, Grant and wife Tami Scheer, Denice and husband Bill Fabrizius, Theresa and husband Leo Trevathon, Tom Scheer and daughter-in-law Kerri Scheer; siblings, Sandi Peterson, Laureen Peterson, Linda and Phillip Stowers, Mike and Karen Scheer, Sandi and Marvin Wolf; grandchildren, Amber Long, Sean Hansen, Jessie Ouiroga, Ryan Scheer, Dani Scheer, Haley Scheer, Torey Trevathon, Tanya Scheer, Kali Scheer and Cortnee Fabrizius; great grandchildren, Kaleb Bringolf, Cole Long, Kolten Hansen, Kialee Hansen, Tucker Hansen; numerous cousins, nieces and nephews.

In lieu of flowers, donations may be sent to Little Wind Hospice, 716 College View Drive, Suite C, Riverton, WY 82501.

Services are under the direction of the Davis Funeral Home of Riverton.