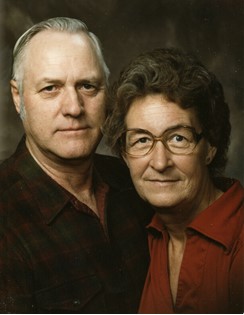 Loren and Betty Farrens
Mar 2, 1928 - Dec 7, 2007

Funeral services for accident victims Loren and Betty Farrens of Pavillion will be at 10 a.m. Saturday, Dec. 15, at the Davis Funeral Home of Riverton. Pastor Cleve McSwain will officiate and military honors will be afforded.

Cremation will follow the services and inurnment will be at Mount Hope Cemetery in Lander at 11 a.m., Tuesday, Dec. 18.

A luncheon will follow Saturday's services at the VFW Club in Riverton.

There will be a viewing from 6 to 7 p.m. on Friday, Dec. 14, at the Davis Funeral Home of Riverton.

The couple died at Riverton Memorial Hospital on Friday morning, Dec. 7, 2007, at the result of injuries suffered in a two-vehicle accident north of Riverton. He was 79 years old and she was 76.

Loren W. Farrens was born on the Van Vleet property in Hudson on March 2, 1928, the son of Elmer Farrens and Alma Opal (Cantrell) Farrens.

Betty Nelson was born in Laramie on April 28, 1931, the daughter of Fredrick "Nels" Nelson and Elizabeth Ruth (Anderson) Nelson. She attended the Riverton schools.

They were married in Riverton on July 17, 1951.

Mr. Farrens was a government trapper and deputy sheriff in Lovelock, Nev., in the late 50s. They returned to Wyoming and he operated large trucks and heavy equipment at the Kennecott Mines in Kimberly, Nev., and Knutson Mines in Kemmerer. He later worked for Dick Truck Lines in Colorado Springs, Colo., and Wyoming.

For the past 25 years, the couple had lived in Pavillion.

Mrs. Farrens was a homemaker and worked as a nurses aide in Riverton, Kemmerer, and Billings, Mont., and as an LPN in Riverton and Billings.

She was a past councilwoman for the town of Pavillion and a member of the Wyoming State Historical Society, Eagles Auxiliary in Riverton, the Meadowlark Sams Good Sam Club of Fremont County.

Mr. Farrens was an advocate for the Handicap Minority Group of Wyoming in 1980 in Kemmerer, and was a member of the I.O.O.F. in Riverton, the Meadowlark Sams Good Sam RV Club, the B.P.O. Eagles in Riverton, and the Wyoming State Historical Society.

Their family said the couple enjoyed their association with the Good Sam members and the trips they took. Mr. and Mrs. Farrens were honored at the Dec. 10 meeting of the Good Sams in Riverton, replacing the planned Christmas party.

In addition to camping, Mrs. Farrens enjoyed fishing, gardening, and crocheting.

His hobbies included hunting, camping, snowmobiling, and cars.

They are survived by twin daughters, Sandra Andrae of Missoula, Mont., and Lorena Altman and husband Vernon of Sioux Falls, S.D.; four grandchildren, 14 great grandchildren, and one great-great grandchild.

Mr. Farrens' survivors also include a brother, Gerald Farrens of Jacksonville, Fla., and a sister, Marilu O'Malley of Riverton.

He was preceded in death by his parents, Elmer and Opal Farrens.

Mrs. Farrens is also survived by a brother, Martin Berg of Denver, Colo., and a sister, Dorothy Bays and her husband, John L., of Casper.

Memorials may be made to a charity of the donor's choice, in care of the Davis Funeral Home, 2203 West Main, Riverton, WY 82501

On-line obituaries are available and condolences for the family may be made at: thedavisfuneralhome.com

Services are under the direction of the Davis Funeral Home of Riverton.