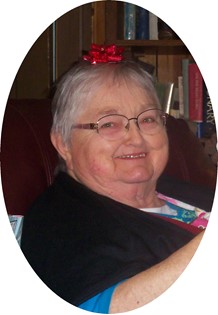 Anoree "Kay" Bowlsby
Feb 10, 1942 - Jan 8, 2017
Anoree "Kay" Bowlsby, 74, of Riverton, died at the Help for Health Hospice Home on Sunday, January 8, 2017. Graveside services will be 10:00 a.m., Wednesday, June 28, 2017 at the Mountain View Cemetery. A funeral service was held at 2:00 pm on Thursday, JANUARY 12, 2017, at the United Methodist Church.

Anoree Kay Bruner was born on February 10, 1942 in Blackwell, OK to Basil and Golden Virginia (Tabor) Bruner. She grew up on a farm close to Wichita, KS and graduated High School from there. She attended the University in Enid, OK where she received her Bachelors of Arts and her teaching certificate.

On February 11, 1968 she married William Herbert Bowlsby in Kansas. They had two sons.

She was baptized in the Christian Faith and regularly attended the United Methodist Church in Riverton. She was a Sunday School Teacher at the Riverton Christian Church for years in the past.

She taught 12th grade English in schools around Wichita, KS. After moving to Riverton, she worked at CWC in the Theater Department doing costumes during the late 1980's and the 1990's.

She enjoyed quilting, sewing, making blankets, clothes, costumes, gardening, her flower garden, and cooking. For Christmas one year she made 13 blankets.

She is survived by her husband of 48 years, Bill Bowlsby; sons, William Joseph Bowlsby and his finance, Tina Burton, of Riverton, and Matthew Jason Mullett-Bowlsby and his husband, Shannon Bowlsby-Mullet of Seattle, WA; grandchildren, Amethyst Tigerlilly Anoree Bowlsby of Denver and her boyfriend, Joseph Flom of Casper, Slade M Burton, Skyelre Witt, and Laura Witt; one great grandchild on the way; sisters, Carolyn (Bob) Davis of Wichita, KS, and Louise Moreland of Wichita, KS; sister-in-law, Betty Coons of Utah; brothers-in-law, Earl (Lucille) Bowlsby of Kentucky, Ray Bowlsby (Nancy) of Lander, and Dewey Bowlsby (Deanna) of Riverton; and many nieces and nephews.

She was preceded in death by her parents and her brothers, Gene Bruner and Jack Bruner.

Memorials may be made to Help for Health or the United Methodist Church in care of Davis Funeral Home, 2203 West Main Street, Riverton, WY 82501. On-line condolences may be made to the family at www.TheDavisFuneralHome.com.

Services under the direction of Davis Funeral Home.