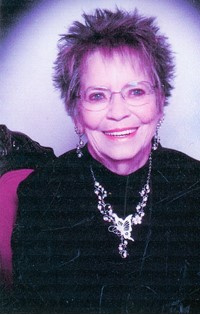 Vivian K. Reno
Dec 5, 1934 - Jan 24, 2017
Vivian Kay Reno passed away January 24th, 2017 in Rock Springs, Wyoming surrounded by her family. A celebration of Vivian's life will be held at 4:00 pm on Friday, April 7, 2017, at the Riverton Elks Lodge.

Vivian Kay Cook was born December 5th, 1934 in Steamboat Springs, CO to Charles M. and Leona A. (Wampler) Cook.. Vivian graduated high school in 1953 and spent the next several years in Kansas City at an airline tech school. Following graduation from the tech school, she worked in Casper, Wyoming for one of the airlines. Later, she moved to Phoenix, Arizona and spent several years working for Goodyear Aircraft typing technical manuals for the production of missiles.

She married Roy Reno in Riverton where he taught school for the next 30 years. They had three daughters and as they grew up, Vivian was the leader of their Brownies scouts and 4H clubs and she was involved with their Jobs Daughters organizations.

Vivian served as the floral judge at many of the county fairs across Wyoming including the state fair in Douglas. Her greatest love was painting. She was a floral artist and donated many of her paintings to charity events.

In 1990, she joined the Riverton DOES Drove and later became their president which was a wonderful honor for her.

She is survived by her brother Jim Cook of Riverton, daughters Lisa Olin (Roger) of Star Valley Ranch, Wyoming, Pam Shaw (Ben) also of Star Valley Ranch and Charla Dietz (Rick) of Rock Springs, grandsons Joe Newberry (Sarah) of Riverton, Anthony Armstrong (Lexi) of Riverton, granddaughters Bethany Bettolo (Patrick) of Rock Springs, Erika Hershberger (Doug) of Long Island, New York, Jennifer Bears (Jared) of Riverton, and Hannah Baudendistel (Ian) of Thayne, Wyoming and eight great grandchildren.

Vivian was preceded in death by her parents, her husband Roy in 2005, two infant grandsons Jayson and Jared Newberry and her son-in-law Joe Newberry.

Memorials may be made to the National SIDS Foundation in care of Davis Funeral Home, 2203 West Main Street, Riverton, WY 82501.

On-line condolences may be made to the family at www.TheDavisFuneralHome.com.

Arrangements under the direction of Davis Funeral Home.