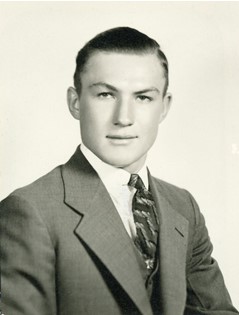 Alfred "Al" Fabrizius
May 24, 1920 - Jan 18, 2017
Alfred "Al" Fabrizius, 96, of Riverton died on Wednesday, January 18, 2017, at the Wind River Rehabilitation and Care Center.

Alfred L. Fabrizius was born on May 24, 1920 in Riverton, WY to John Jacob and Marie (Groesh) Fabrizius. He was raised in a large family of eleven children on the family farm. He attended schools in Riverton and graduated from Riverton High School. He lettered his Junior year in football as a half-back and again as a Senior but this time as a full-back. He was the last surviving player of the first football team that played at the "new" Tonkin Stadium.

He was of the Lutheran faith.

On March 19, 1950 he married his wife of 59 years, Eleanor Jean Wambolt, at the "old" St. John's Lutheran Church in Riverton. The farmed together on the same farm he was raised on and raised two children, Paula and Gary. Eleanor passed away on June 18, 2009.

He worked on the same farm he was raised on his entire life. He was a very hard working farmer and worked closely with the Farm Service Agency. For his work with them he received different honorary awards for doing excellent work. He enjoyed his work.

He and his wife loved to Square Dance and belonged to The Square Dance Association. Rarely did they miss a chance to dance!

He is survived by his son, Gary Fabrizius; sister, Elsie Crabb; son-in-law, Mike Jarvis; grandsons, David Jarvis and wife, Emily, Mac Jarvis and wife, Amanda, and Beau Dean Jarvis and wife, Codi; and five great grandchildren, Brooke, Dominic, Aden, Mayce, and Brody.

He was preceded in death by his parents, John and Marie Fabrizius; wife Eleanor Wambolt-Fabrizius; daughter, Paula Jarvis; brother, Harry Fabrizius; sister, Helen Rhinehart; half-brothers, Alec Albrandt, Gene Albrandt, Jake Albrandt, and George Fabrizius; half-sisters, Elizabeth Seigfriedt, Bertha Dienes, O'Linda Weber and Victoria Randolph which passed away one day before Alfred.

On-line condolences may be made to the family at www.TheDavisFuneralHome.com. Arrangements under the direction of Davis Funeral Home.