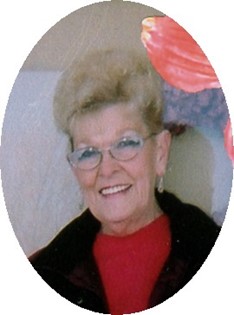 D. Ann Anderson
May 11, 1934 - Mar 10, 2017
D. Ann Anderson, 82, of Riverton died at her home on Friday, March 10, 2017. A funeral service will be held at 10:00 am on Wednesday, March 15, 2017 at the Hillcrest Baptist Church. Burial will follow at Mountain View Cemetery. There will be a public viewing at the Church 9:00 a.m. until service time Wednesday.

Della Ann Walls was born on May 11, 1934 in South Seward, KS to Fred C. and Ruth (Shotton) Walls. She grew up in Great Bend with her siblings. After graduating high school she attended nursing school.

She was a member of the Hillcrest Baptist Church in Riverton.

On February 17, 1962 she married Virgil Carl Anderson in Denver. CO, they celebrated over 43 years before Virgil passed away on July 29, 2005. As a young family, they moved, with their two children to Riverton, WY over 50 years ago. After moving to Riverton they owned and operated The Budget Stretcher for years on Main Street before turning the store into a shoe store by the name of The Family Shoe Store. They also ran Virdel Kennels for twenty plus years.

She was a member of the Riverton BPOE Does.

Her family, dogs, and church were her life, she enjoyed time and many activities with them.

She is survived by her daughter, Heidi Rae Bush and husband, Jeremiah of Riverton; grandchildren, Dominic Anderson of Riverton, Elizabeth Cates and Brianna Cates both of AZ; and four great grandchildren.

She was preceded in death by her parents, Fred and Ruth Walls; husband, Virgil Anderson; son, Jimmy Dean Anderson; daughter, Beverly Ann Anderson; and her siblings.

Memorials may be made to Hillcrest Baptist Church in care of Davis Funeral Home, 2203 West Main Street, Riverton, WY 82501.

On-line condolences may be made to the family at www.TheDavisFuneralHome.com. Services under the direction of Davis Funeral Home.