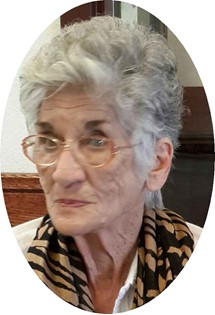 Barbara Williams
Dec 9, 1934 - Mar 31, 2017
Barbara A. Williams of Riverton died peacefully at her home surrounded by family on March 31, 2017. She was 83 years old.

Per her request, cremation has taken place and there will be no services.

Barbara was born on December 9, 1934 to Hubert C. and Wilma R. Jones in Dobson, NC.

She was a wife, homemaker and mother and friend to many.

She married the love of her life W.P. "Bill" Williams, April 6, 1961 and lived in Alaska until his retirement. They also lived in Colorado and Arizona.

After his death she moved to Riverton where she grew up, to be near family.

She enjoyed fishing for halibut, camping, golfing, watching Alaska reality shows or a good western on TV, but mostly spending time with her family and friends.

Survivors include her son Joey Jones of Riverton; daughter, Joni Shiels of Forks, WA; grandson, Sheridan Shiels of Enumclaw, WA; son Casey and wife, Bebe Williams and granddaughter, Blaze Marie Williams of Wasilla, Alaska; sisters, Mrs. Ramona (N.D.) Thomas, Mrs. Nelda (Don) Harper, Mrs. Brenda (Vernon) David, and Mrs. Pearl (Jason) Jones; sister-in-law, Mrs. Ida Williams Elliot and Mrs. Edward (Aggie) Jones; and numerous nieces and nephews, great nieces and nephews.

She was preceded in death by her husband of 42 years, W.R. "Bill" Williams, her parents, Hubert and Wilma Jones; brothers, Edward O. Jones and Earl Jason Jones.

Her and her husbands's ashes will be spread in their favorite mountain range 'Sleep with the Angels' in Alaska.

Arrangements under the direction of Davis Funeral Home.