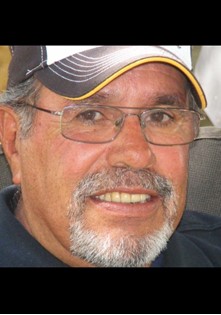 Leandro "Lee" Martinez
Sep 27, 1940 - Apr 7, 2017

Leandro "Lee" Edward Martinez Born September 27, 1940 and left this world a better place on April 7, 2017. He was born in Riverton, WY to Maria E Montoya and Eulalio Edward "Eddie" Martinez. Lee attended Riverton High School and Graduated with the class of 1958. His desire to serve the public started shortly after graduating when he enlisted in the military and was later given a medical discharge. Lee then returned to Riverton where he married Joyce Raymond and they had four boys together. They later divorced and he then married Jodonna Schallenberger. They too, divorced a short time later. It wasn't until 1981 that he met his best, Pamela "Pam" Ann Johnson. In this marriage he gained two more sons.

Lee wore many hats during his employment career, all of which he took great pride in. As a young boy his family lived on a farm working with beets. He lived a few years in Oregon where he worked as a cabinet maker, developing a passion for woodworking. He later returned to the place he loved and called home, Riverton WY. where he worked for Eaton, throughout it's years of change. He also worked for the Radio Station and ultimately retired from UPS. Although, Lee never really retired. He always remained active, so he began working for Fremont County Sheriff's Office serving papers and also as court bailiff.

Lee was passionate about serving and supporting the Riverton community. At the time of his passing he was so proud to be serving the city as councilman. He spoke endlessly about hopes and progress he wanted to make. He was very involved with any youth project he could help with, to include The Riverton Splash Pad, The Job Corps project, The Skate Park, WAM, The REC Board and The Main Street Project. There are so many people he met through these projects that he always spoke highly of and was excited to see them completed. He was a huge part of making our community a much better place for youth.

Another passion Lee dedicated his time to was with Riverton Little League. He dedicated 49 years to calling behind the plate. Kids he interacted with his first year would be near 60 years old today. His accomplishments and dedication to a sport he loved will be unparalleled.

There are so many ways a person could describe Lee. He was a husband, father, brother, grandfather, uncle and friend. He had a contagious laugh and a bright smile which lit up any room he stepped into. When he spoke, he did so in a way to make you feel special. Lee was dedicated to anything he put his spirit into and for those things alone, he will forever be remembered, loved and missed beyond measure.

Lee is survived by his loving wife of 35 years Pam Martinez, Sons, Leandro Martinez of Pavillion, WY. John (Crystal) Martinez of Colorado Springs,CO. Troy (Becki) Martinez of Colorado Springs,CO. Bryan Johnson (Tony Vitale) of Linden, NJ. Brett (Karen) Johnson of Cheyenne, WY Daughter in law Angie Martinez of Riverton, WY. Brother, John (Marlene) Martinez of Riverton, WY. Sisters, Esther (Leroy) Manzanarez of Riverton, WY. Josie (Harry) of Riverton, WY. Grandchildren, Sharon (Sam) Bryant, Eulalio Jr (Kristin) Martinez, Whitney Martinez, Patrick Martinez, all of Riverton, WY. Mason (Eimy) Martinez of Kuwait. Amanda Martinez of Saudi Arabia. Robert (Nicole) Trujillo of Colwich KS. David Troy (Elizabeth) Martinez, Nyketa (Chris) Noti both of Colorado Springs, CO, Morgan Martinez of Lafayette, CO. Johnny Martinez of Pavillion, WY., Renee Martinez of Denver, CO. Angel (Ethan) Arnold of Cheyenne, WY. and Bryan Johnson of Riverton, WY. 20 Great Grandchildren, and 1 Great Great Grandchild along with multiple Nieces and Nephews

He was preceded in death by both parents Eulalio "Eddie" Martinez, Maria "Mary" Martinez, son Eulalio "Chico" Martinez, daughter in law Laurie Martinez, granddaughter Kahla Martinez and great grandson Kota Martinez.

A viewing will be held at Davis Funeral Home from 5 P.M. to 7 P.M. Tuesday, April 11, 2017 with services to be held at Lighthouse Bible Church officiated by Dale Adams on Wednesday April 12th, 2017 at 2 P.M. (Watch for signs) off North Federal. In lieu of flowers the family request donations be made to Riverton Little League. Reception information will be announced at services. Lee loved his "mexican" food...so we are asking for friends and family to bring your favorite mexican dish to share. On behalf of all of the family we are blessed to have been a part of his life and we are thankful he left a mark everywhere he went, even the grocery stores and was a part of yours.