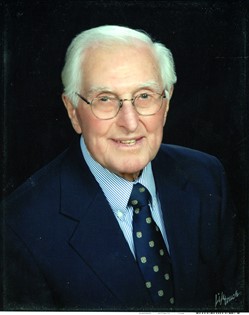 Donald "Don" White
Jun 7, 1927 - Apr 7, 2017

Donald "Don" White, 89, of Riverton, died in San Diego, CA on Friday, April 7, 2017. A rosary will be recited at 7:00 pm on Monday, April 17, 2017, at St. Margaret's Catholic Church. The funeral mass will be held at 10:00 am on Tuesday, April 18, 2017, at St. Margaret's Catholic Church with interment at Mountain View Cemetery.

Donald P. White was born June 7, 1927 at Aurora, Nebraska, the son of Julius R. White and Winifred Britt White.

He graduated from Aurora High School in 1945. He received a Bachelor's Degree in Business Administration from Creighton University, Omaha, Nebraska in 1950. In 1960, he received a Juris Doctorate Degree from the University of Wyoming Law School.

On February 12, 1952, he married Margaret Mary Doyle in the Cathedral of the Immaculate Conception at Rapid City, South Dakota.

He served in the United States Navy during World War II in 1945 and 1946.

From 1950 to 1960, he was employed by Securities Acceptance Corporation and General Credit Corporation in offices in Omaha, Nebraska, Rapid City, South Dakota, Cody, Laramie, and Casper, Wyoming in various positions, including Branch Manager and Regional Supervisor. He entered the private practice of law in Riverton, Wyoming in 1961, formed a partnership with Donald J. Spiker until 1970, and from 1981 and for the remainder of his professional career, in partnership with his son, Mark J. White. He served as Riverton Municipal Judge from 1962 to 1971 and Riverton City Attorney from 1971 to 1990. He represented the Central Wyoming College, several school districts, three irrigation districts and other municipalities in Fremont County for many years. He was the long time counsel for Riverton Valley Electric Association and Hot Springs Electric Association, which consolidated into High Plains Power, Inc. to serve a large area in west central Wyoming. Additionally, he was attorney and director of banks in Riverton and Dubois for approximately twenty years.

He served for six years as a member of the initial Environmental Quality Council for the State of Wyoming under appointments by Governors Ed Herschler and Stan Hathaway.

He was a member of the Fremont County Bar Association, Wyoming Bar Association, and the American Trial Lawyers Association. He was a member of the Board of Law Examiners from 1992 to 1995.

He was a trustee of St. Margaret's Catholic Church, St. Margaret's School Foundation, and St. Stephens' Indian Mission Foundation for many years.

He was a member of the Knights of Columbus, Riverton Lions Club, and the Elks Club. He enjoyed golf, fishing, backpacking in the Wind River Mountains, and other outdoor activities.

Survivors include his son, Mark and wife Robyn of Riverton, son Tom and wife Lynda of Bozeman, Montana, eight grandchildren, and nine great-grandchildren.

He was preceded in death by his wife, Margaret, his parents, a daughter, Mary Macarah, two brothers, and a sister.

In lieu of flowers, memorial donations may be made to St. Margaret's School Foundation.

On-line condolences may be made to the family at www.TheDavisFuneralHome.com.

Services under the direction of Davis Funeral Home.