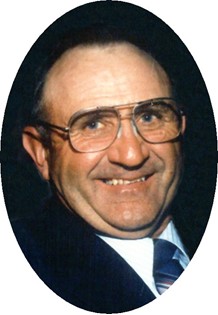 Raymond "Ray" Poffenroth
Feb 22, 1935 - May 16, 2017
Raymond "Ray" Poffenroth, 82, of Riverton, passed away Tuesday, May 16, 2017 at the Help for Health Hospice Home. A funeral service will be held at 10:00 a.m. on Saturday, May 20, at Trinity Lutheran Church with interment to follow at Mountain View Cemetery.

Raymond Eugene Poffenroth was born on February 22, 1935, in Longmont, Colorado, to Philip and Elizabeth (Befus) Poffenroth. He grew up on a farm in the Mill Creek area and attended Mill Creek School. He graduated from Riverton High School in 1953. While in high school, he was an outstanding athlete in football, basketball, and track. Later he was renown statewide as a fastpitch softball pitcher. He served as Senior Class President, was a member of the Riverton Chapter of F.F.A., and served as a board member of the Riverton Volunteer Fire Department.

On July 6, 1955, he married Mary Jo Davison at St. Margaret's Catholic Church in Riverton. They farmed in the Riverton Valley area for fifty years where they raised five children: Terri, Debi, Gary, Mike, and Ron.

Ray was a member of Trinity Lutheran Church. He assisted with collections and was an avid supporter of Trinity Lutheran School. He enjoyed fishing, golfing, team roping, poker with his buddies, and going to the casino. Ray loved his grandkids and enjoyed going to their many activities. His friends remember his soft spoken and generous heart.

He is survived by his wife, Mary Jo; daughters, Terri Middagh and husband, Larry, and Debi Belville and husband, Steve; sons, Gary Poffenroth and wife, Penny, Mike Poffenroth and wife, Lisa, and Ron Poffenroth; grandchildren, Will Middagh, Mary Middagh, Megan Belville, Jordan Belville, Marisa Poffenroth, Brooklynn Poffenroth, Andrew Poffenroth, and Tyler Poffenroth; and great grandchild, Lukas Jackson. He was preceded in death by his parents, Philip and Elizabeth Poffenroth; and sister, Evelyn Natzke; along with numerous aunts, uncles, and cousins.

Memorials may be made to Help for Health Hospice or Trinity Lutheran School in care of Davis Funeral Home, 2203 West Main Street, Riverton, WY 82501.

Online condolences may be made to the family at www.TheDavisFuneralHome.com.

Services under the direction of Davis Funeral Home.