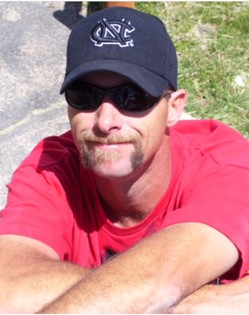 James Caples
Jun 11, 1975 - May 26, 2017
James E. Caples, 41, of Riverton died Friday May 26, 2017 as the result of a motorcycle accident. A memorial service will be held at 3:00 p.m., Thursday, June 1, 2017 at Davis Funeral Home. Following the service, there will be a procession to Rocky Mountain Liquors followed by a carry in dinner at the Sunset Park picnic shelter. Cremation has taken place.

James Earl Caples was born June 11, 1975 in St. Louis, Missouri to Robert Caples and Pearl Kay (St. John) Michael. He grew up in Casper and Riverton graduating from Riverton High School.

James worked in the oil field for many companies, including Unit and SST Drilling. He was currently a Bar Tender at Rocky Mountain Liquors.

His family and friends said he loved to ride his motorcycle, fishing, hanging with his friends and motorcycle brothers, going to the lake and shooting off lots of fireworks. Most of all, James loved spending time with his son, Cory and his girlfriend, Ceila Warren, whom he loved having by his side and behind him on the bike.

He married Nate Whitman on July 8, 2009 in Lander. The couple first met May 17, 2001. James cared for Nate's children as well as his son.

He is survived by his children, Cory Ray McFarland of Riverton, Daryk Soule of Riverton, Stephanie Whitman of Sheridan; Tyler Johansen; his former wife, Nate Whitman; his girlfriend, Ceila Warren of Riverton; his mother, Pearl Kay (St. John) Michael of Rogersville, MO; Aunts, Jeannie Portlock of Riverton, and Noma Johnson of Colorado Springs, CO; brother, Robert Woelich and wife Bonnie of Springfield; MO; sister, Judy Potts and partner Cameron of Rogersville, MO; and numerous aunts, uncles, cousins, and friends.

Memorials may be made to Cory McFarland in care of the Davis Funeral Home, 2203 W. Main Street, Riverton, WY 82501.

On-line condolences for the family may be made at the DavisFuneralHome.com.

Services are under the direction of the Davis Funeral Home.