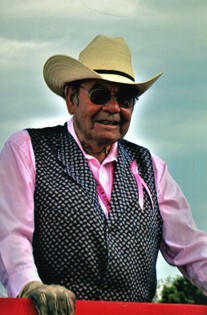 Willis Arthur "Art" Reynolds, Jr.
Nov 27, 1935 - May 26, 2017
RIVERTON – Willis Arthur "Art" Reynolds, Jr., passed away Friday, May 26, 2017, at home following a two-year battle fighting illness.

He leaves his eldest son Wade (Sharon) Reynolds of Rapid City; youngest son Bart (Liz) Reynolds of Riverton; grandchildren Jessica, Brandie, Amber, Dustin, Amy, Billy; great-grandchildren Sidney, Jackson, Kael, Penelope, Tanner, Ethan, Logan, Bo, Hunter, Hayden; niece Cindy Grafton of Casper; companion Roberta Jackson of Riverton; Marcie (George "Rooster") Burr of Riverton; Jay (Jaylynne) Jackson of Mount Pleasant, UT; and their children and grandchildren; extended family and dear friends.

Born November 27, 1935 in Hot Springs, SD, the eldest son of Willis Arthur, Sr., and Rachael Reynolds, and brother to Joseph.

In his early years, Art lived and worked alongside family at The Reynolds Ranch, in Deerfield, SD. After graduating from Boarding School in 1954, he went on to start his own family with his wife Elma in Rapid City, SD. He began a career in the trucking industry. After his children were grown he went on to run Reynolds Mobile Home Park in Hill City, SD with his second wife, Madonna. They later moved to Pavillion, WY, where they raised sheep. Art drove truck for BTI for 15 years and after retiring, they moved to Thermopolis, WY for several years until Madonna's death, after which he returned to the Riverton area. Art remained active during his retirement years, haying in the summer, working with animals, attending auctions, collecting and restoring tractors, equipment, and furniture. He loved to be outdoors; camping, fishing, and boating.

As Art continued his passion for living the ranching life, he surrounded himself with good people, many horses, and special dogs throughout the years. He was a hardworking man, a caring father, and loyal friend. The last eleven years were spent with his long-time friend, Roberta Jackson, who brought love, joy, and new adventures to his life. It brought them great happiness being with friends traveling in the wagon train in the Wyoming mountains and driving their team of horses in the parades at Cheyenne Frontier Days.

Unfortunately, Art did not get his wish to enjoy another summer with his family at the lake, riding his Oliver parade tractor in Shoshoni, WY and Sturgis, SD, and attend one last Cheyenne Frontier Days with his best friend. No doubt he will be missed by many.

Come celebrate the life of Art Reynolds with his family and friends on Saturday, June 17, 2017, 10 AM, Riverton United Methodist Church,1116 West Park Ave., Riverton, WY. A luncheon will follow the memorial.

Burial will take place on a later date at the family cemetery at the Reynolds Ranch, Deerfield, SD.