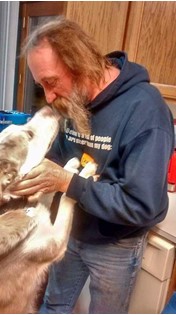 Ronald Kruske
Dec 26, 1962 - May 28, 2017
A Celebration of Life for Riverton resident Ronald Wayne Kruske, 54, will be held 1:00 p.m., Sunday, June 4, 2017 at the City Park Band Shell. A pot luck will follow services at the Rocky Mountain Discount Liquors.

Ron died on May 28th due to a motorcycle accident.

He was born on December 26, 1962 in Deadwood, South Dakota, son of Donald Darrell and Sandra Jean (Anderson) Kruske.

In 1981, Ron graduated from the Riverton High School, which was the first graduating class of the new high school.

He worked in the oil fields in North Dakota and Wamsutter for Nabors Drilling. He also worked as a fireworks fabricator for 3 years and the City of Riverton as a Driver/Operator having various duties which included driving the garbage truck.

Throughout his life, Ron lived in Edgemont, SD, Seattle, WA, Black Hills, SD and Riverton, Wy.

Ron loved his dog, "BSOTA" and enjoyed riding his motorcycle, listening to music and building and launching model rockets.

Ron was baptized in the Bethel Lutheran Church in Lead, South Dakota.

Survivors include his parents, Donald and Sandra of Riverton; daughter, Christina Prater; brothers, Don Kruske of Spearfish, SD and Jason Kruske of Littleton, CO; sister, Sue Wieser of Las Vegas, NV; niece, Amber Corey of Sioux Falls, SD; nephews, Jake Kruske of Lead, SD and TJ Wieser of Sioux Falls, SD and 7 great nieces and nephews.

He was preceded in death by his maternal grandparents, Horace and Evelyn Anderson and paternal grandparents, Andrew and Margaret Kruske.

Memorial contributions to the PAWS for Life in care Davis Funeral Home, 2203 West Main, Riverton, WY 82501.

On-line condolences for the family may be made at theDavisFuneralHome.com.

Services are under the direction of the Davis Funeral Home.